Home Care for Cats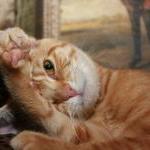 When I was 5, I had to get a series of painful shots, and I've been afraid of needles ever since. So when my cat was diagnosed with kidney failure and the vet told me he would need regular injections for the rest of his life, I thought, "There's absolutely no way I can do this. I can't even look at a needle, let alone give my cat a shot every day."
Kidney failure or chronic renal failure (CRF) is common in older cats. It is usually a terminal condition, but with good home care, the cat can enjoy months or even years of high-quality life. An essential treatment for CRF cats is regular subcutaneous (beneath the skin) injection of fluids. The fluids keep the cat well hydrated and comfortable and allow the remaining healthy kidney tissue to work as effectively as possible. The vet showed me how to give the injection: You pinch up some skin above the cat's shoulder blades, slide in the needle, then wait for the fluid to flow through a tube from a bag suspended overhead. I was amazed to see that my cat didn't mind at all—apparently, cats don't have needle phobias like some people do.
For our first try at home, I was so nervous my hands were shaking. I thought we were off to a great start until I realized that I had pushed the needle right through my cat's skin and out to the other side. The fluids were making a nice little puddle on the table. My cat, picking up on my distress, decided that he didn't want to sit still for this craziness. For the next several treatments, my husband had to hold him while I managed the needle  But we got better at it with time. I always warmed up the bag of fluids so that it would feel nice going in, and eventually my cat started looking forward to fluids time—it really did make him feel better.
I'm so thankful that my vet encouraged me to overcome my fears and give the injections. (And I'm not as afraid of needles anymore.) Some cat guardians consider immediate euthanasia when their cats' kidneys begin to fail, but my cat lived for more than 2 years after his initial hospitalization, and for all but the last few weeks, it was hard to even tell that he was sick. After we both got used to the injections, I didn't even need to hold him and I could practically do the whole thing with my eyes closed. It was heartbreaking knowing that he was going to die, but I was grateful for each additional day that we had together.
FelineCRF.com is a great resource if your cat has just been diagnosed with kidney disease. You can find out about symptoms, treatments, diet, and how to interpret your lab results. The website even has a step-by-step illustrated guide to giving subcutaneous fluids. It's also a good idea to find a cat sitter who is comfortable giving the injections. Try asking at your vet's office—many cat sitters offer medical services, or you can find a veterinary technician who does cat sitting on the side.
My other cat was diagnosed with feline diabetes, another common cat ailment. As with diabetes in humans, it can be fatal if unmanaged. But once it's under control, a cat can live with it for many years. After my experience caring for my CRF cat, I felt comfortable taking this on. It was surprisingly simple. Giving the insulin shots was a piece of cake—the needle was so small that my cat didn't seem to feel it at all. I also bought a glucometer, which tests a small drop of blood to determine the blood glucose level. This enabled me to give him insulin only when he needed it, and having the glucometer at home saved us many stressful trips to the vet. Getting the drop of blood was just a matter of pricking a vein on the outside of his ear. Check out FelineDiabetes.com for tips on caring for your diabetic cat.
I wish there were support groups for home medical care of cats. Now that I know how to do it, I help out friends who have CRF or diabetic cats. It helped ease my grief when my CRF cat passed away to know that the home care had given him so many additional months of life.