Herbivore Heaven: A Taste of Toronto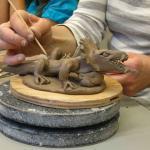 There's so much to like in Toronto that a weekend escape should be considered just a teaser. The current exhibit at the Royal Ontario Museum (ROM) provides a sober and exceptionally well-conceived tour of ecosystems and humans' impact on them, provoking thoughts of what people can do to reverse the damage. I pored over contrasting comments from the logging industry, the government, environmentalists, and everyday people. ROM's Earth Rangers teach visiting students to be aware of the lives around us.
The revitalized Harbourfront Centre includes a lovely dog-and-people park with Lake Ontario views. The Ontario Science Centre, while currently dominated by the Harry Potter exhibition, has dozens of interactive stations that prompt visitors to think about what it means to be human. The art teacher at the Gardiner Museum offers a bargain-priced clay studio on a drop-in basis and has an affinity for charming animals.
Throughout Toronto, there's an awareness that humans must take better care of the planet. Perhaps there's a Torontonian respectfulness that explains why this worldly city is quite clean, safe, and easy to get around on classic bell-clanging trolley cars, the subway, buses and bicycles.
Naturally, I was glad to find many vegetarian restaurants, and even a few that are vegan. I'll mention the places I tried, but rest assured, there are many more! That's why it's worth checking out the Toronto Vegetarian Association online or looking for its "Vegetarian Directory 2010." It's based at 17 Baldwin Street next to the superb Vegetarian Haven. If you arrive after-hours, grab a guide from the door rack.
Chef Michael Smith has made ROM's Food Studio a tasty, healthy, and enlightening place to eat when visiting the museum. "I'm trying to lose the stigma of 'cafeteria food with everything cooked in the deep fryer." The market-fresh Cookstown salad was enlivened with some extra touches, such as blanched and skinned heirloom cherry tomatoes.
Urban Herbivore in the neo-hippie Kensington Market neighborhood excels in veggie subs and sandwiches, while its upscale cousin Fressen offers a creative plant-based menu. There, I recommend a trio of small plates, such as the ginger-mango salad. If sodium's an issue for you, choose carefully.
Hot Yam is the student-run vegan co-op open for cheap-lunch on Thursdays at the University of Toronto. Another café, One Love, serves up island-style vegan fare.
At Fresh on Queen Street W., the dozens of mostly vegan choices include made-from-scratch health juices, quinoa puff-coated onion rings, sweet-potato fries, coconut-sprinkled dosas-and their signature bowls of brown rice or soba noodles with fresh, seasoned vegetables.
Like veggie hot dogs? Many of Toronto's famous hot-dog vendors grill them. Pizza? You must visit one of the Magic Oven eateries. All based in Toronto, their mission is to make delectable, healthy foods with local ingredients. Try the $9 Vegan Magic pizza and mixed beans and powerhouse grains with curry-lime tang.
My hands-down favorite restaurant: Vegetarian Haven. Co-owner Shing Tong has been working with Chef Jack Li nearly 14 years to create all-vegan Asian fusion cuisine that's lightly seasoned and shimmering with flavor. It's clear why the compact Baldwin Village dining room was packed with date-night couples, a large group of birthday celebrants, and a cross-country bicyclist who eats there at least once a week.
Standouts at Vegetarian Haven include grilled tofu with house pesto and sizzling eggplant with house-made tempeh-the aroma is heavenly, the presentation is colorful (look for the signature purple rice), and the taste divine. In keeping with a Buddhist tradition related to soul-calming foods, Shing says that onion and garlic are not used in their dishes, and there's no extra salt added. "We like a cleaner, brighter flavor," she told me. For a sweet-and-spicy option, there's Singapore Pad Thai with pineapple-peanut sauce. The superbly textured seitan is also homemade. The "desserty" looking drinks are all plant-based. The huge chocolate birthday cake with sparklers on top? Now that's a dessert. And omnivorous skeptics may have an epiphany over the vegan version of crème brûlée. This friendly bistro is open for lunch and dinner weekdays except Monday and for dinner on weekends. I was happy to see a stack of cruelty-free eating brochures at this restaurant.
Planning to visit Toronto? How about early September (10th-12th)  for the Annual Vegan Food Fair? Get tourism info at SeeTorontoNow.com or 1-800-363-1990.
Have you visited Toronto? If so, can you recommend any other vegetarian restaurants?