Have a Sweet Tooth in the Bay Area?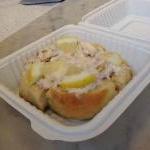 Since becoming involved in the animal rights movement, I've come to the conclusion that bringing delicious vegan food to the people is half the battle. Consumers can read about the horrors of factory farming or watch footage of cruelty to animals all day long, but as long as they think that a vegan diet consists of sprouts, tofu, and sweets that taste like cardboard, they just aren't going to make the switch.
Judging by the quality of her delicious vegan baked goods, longtime vegan Shannon Michelle Radke seems to believe this as well. If there is any proof that you don't need eggs and milk to make delicious treats, it is in her cinnamon rolls. Until recently, her cookies, breads, brownies, and rolls were only available at charity vegan bake sales around the Bay Area. This month, Shannon and her husband, Florian, opened a storefront near the University of California-Berkeley campus to show vegans and omnivores alike just how tasty treats can be without including cruelly produced milk and eggs. Upon seeing the line that spilled out the door and down the block at Cinnaholic's grand opening, it is clear that more and more people are realizing this.
While Cinnaholic also serves cookies, sliced bread, and brownies, the main attraction is definitely the cinnamon rolls. With more than 25 different flavors—including butterscotch, cream soda, piña colada, and root beer—and more than 25 toppings, including brownie chunks, pomegranate seeds, and marshmallows, the options are limitless and will have customers coming back for more. Cinnaholic also serves locally roasted De La Paz Coffee and soy milk to compliment its sweets. As a bonus, it is located next door to the recently opened Saturn Café, a "space-age" vegetarian diner. Perhaps it has something to do with the recent study showing that vegetarians are happier or just the thrill of exciting new food options in Berkeley, but it seemed like everyone on the block was in high spirits and especially friendly. People struck up conversations with strangers in line to ask whether they had tried the newly available vegan fare and how they liked it. Perhaps it was knowing that the cinnamon roll was cholesterol-free, lower in saturated fat, and made with nonhydrogenated oils that made my freshly baked sampler that included fresh fruit toppings and four different kinds of frostings taste so good. On second thought, no, it was just that good.
If you are not yet convinced that a vegan diet is the way to go, I would urge you to at least give it a try! Check out this blog to learn how to substitute eggs and milk in your baking, and get back to us about how things turned out!
This post was written by Laura McCaul. Laura is PETA's correspondence assistant and responds to e-mails and letters from the public in both English and Spanish. Her favorite part of the job is providing advice and resources to people who ask PETA for help going vegan.