Fallen Angel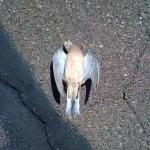 Animals killed by speeding cars or malevolent drivers are regrettably commonplace on city and country roads alike. I've been photographing them in the hopes of convincing our homeowners' association to request more "Watch for Wildlife" signage in the area. Sadly, I've compiled quite a portfolio, but one recent day was different. As I stopped to see if there was any way to save a recently hit mourning dove, my breath was taken away by her beauty. She looked like a fallen angel; as though she suddenly froze in flight and floated gently to the ground. This, of course, was not the case. But I felt compelled to tell her story so that her death-and the passing of all who meet their demise at the hand of speeding cars-will perhaps help to remind us to slow down, literally and figuratively.
So, as I always do when looking for a way to express myself, I turn to words. I'd like to share these words about Fallen Angel with you.
Fallen Angel at my feet,
Your resting place a summer street
Man's haste brought metal to your brow,
How many more shall we allow?
Alas your path's precarious flow,
Was not enough for us to slow
For we had errands, seeds to sow,
People to see, places to go
Can your lesson be our last?
Your sacrifice our looking glass?
Man's rush brought silence to your flight,
Our thirst for speed your sorry plight
Upon your kind we have imposed,
Our arrogance-at once, exposed
You bring our essence to the fore,
Our need to "fly" has silenced yours
We wear your blood on crimson hand
When will we come to understand?
What's done to one, is done to all
And it is not just one who falls
Perhaps your death can pause us so,
That others of your kind may go
And soar the skies in peaceful plan,
Without the hindrance of man
Your radiance in death debates,
The violence that dealt your fate
Perhaps your fall can raise us still,
As destiny its song fulfills
You came to help us come to know,
That as we reap so shall we sow
Yet while we learn, we must decry,
Why do our teachers have to die?