Earth-and Animal-Friendly Chattanooga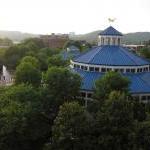 Sometimes you can get a good feel for a town by dining at its restaurants. Of course, having an all-vegan restaurant says a lot about a town!
Sluggo's North Vegetarian Café opened a few months ago on gritty Cherokee Boulevard near a revitalized area on Chattanooga's North Shore. The area has great potential—it already boasts a nearby outdoor outfitter store and eco-centric shopping center and is an easy bike ride or hearty walk away from entertainment and lodging districts. When I entered Sluggo's, some musicians were sitting on stools at the bar, casually strumming guitars. A well-dressed young couple played a board game while waiting for their food. Folks from a wide range of generations chatted over creative dishes and sandwiches. Some notices that were posted on a board indicated that the eatery doubles as a cultural venue, presenting the occasional offbeat play or concert.
The aromas were so heady that I had an especially hard time choosing what to order. A black-bean burrito? One of the faux twists on the classics—maybe The Berliner (seitan, sauerkraut, and vegan Russian dressing on local rye bread)? The server, sensing my struggle, suggested the Popeye Bowl (cubed tofu lightly seasoned with peanut butter, pearly brown rice, steamed spinach, and crunchy cabbage). Good choice.
Big changes have transformed Chattanooga into a spirited destination. The Chattanooga Choo Choo has been converted into a lodging-dining-entertainment complex. There is a lot of great local music—some of which is showcased at free weekly outdoor concerts. Instead of wading through mud at Bonnaroo this June, I caught some of Chattanooga's mostly indie, local-focused Riverbend Festival on River Walk, the nicely landscaped and wheelchair-accessible path that runs along the Tennessee River. There I enjoyed emerging talents such as singer-songwriter Gabriel Newell and Moon Slew. In addition to the crowds on River Walk, music lovers were listening from the bridges and on boats.
Wandering around downtown after being wowed by mind-blowing works at the Hunter Museum of American Art, I found Country Life Vegetarian Restaurant, a lunch spot that is billed as vegetarian but, as I'm told, is essentially vegan and wonderful. That gives me yet another reason to return to Chattanooga. And there are also vegetarian-friendly restaurants such as farm-to-table 212 Market Restaurant and Taco Mamacita, which recently introduced a temptation-filled vegan menu.
You can also traverse the compact downtown area on the free CARTA electric shuttle buses, which run every few minutes. One route crosses the river to North Shore, where there's lovely family-friendly riverside Renaissance Park, adjoining Coolidge Park and its LEED-certified outdoor center. A block away is Frazier Avenue, which has funky shops and several eateries that offer vegetarian and vegan options.
It's hard to believe that the city was once dubbed America's dirtiest in 1969, when Walter Cronkite reported on a U.S. Environmental Protection Agency study. These days, there are bountiful places and ways to enjoy the outdoors. You can jog or bike across the Walnut Street Bridge, which is among the longest and highest pedestrian-only spans in the world. You can bike along the wide river, bracketed with views of the broccoli-green foothills of the Appalachian Mountains, for about 13 miles from downtown to the Chickamauga Dam. Or kayak the river. There's even a narrated cruise on the new River Gorge Explorer, a high-speed catamaran piloted by Captain Mike who built the boat that he lives on with his cat and Mary Ann (but no Ginger, he quips).
Hike or drive a serene loop around Reflection Riding to view and learn about indigenous plants. The Riding is sited on a longtime farm that was nearly lost to industrial use. It's next to the Chattanooga Nature Center, whose hiking trails include the wheelchair-accessible Blue Heron Boardwalk. Staff and volunteers there have worked for years to protect the endangered red wolf.
Feel like visiting Chattanooga? You can find detailed info on attractions, lodging, and more at http://chattanoogafun.com or 800-322-3344.