Bloomington, Indiana: A Midwestern Haven for Culture, Cuisine, and Enlightenment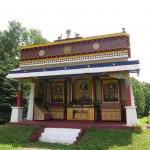 World-class music? Check. Great theater and opera? Check. Outstanding art—both ancient and contemporary—from around the world? Check. A Genealogy Center and a Tibetan Mongolian Buddhist Cultural Center? Check. Multiple choices for fantastic vegan food? Check, check!
Welcome to Bloomington, Indiana, a small town with magnificent cultural offerings—many of which are free! You can find details about attractions and upcoming events in Bloomington and get other visitor info at http://www.visitbloomington.com. Here's a taste of this phenomenal Midwestern haven for travelers who are hungry for culture and farm-to-table cuisine.
Indiana University (IU) is the beating heart of this college town, and many of its students tend to stay in Bloomington after graduation or return to the city to retire. That explains why nearly every day and night, you have a choice of free concerts, plays, dance performances, gallery shows, book talks, and tours. Plus there's free admission to the exceptional Indiana University Art Museum, the Mathers Museum of World Cultures, the Indiana Memorial Union (which houses a year-round hotel), and the adult-oriented art exhibitions at both the School of Fine Arts Gallery and the Kinsey Institute for Research in Sex, Gender, and Reproduction. There are sports events, of course, and performances (some free) at both the Musical Arts Center (1,446 seats!) and the worth-touring Indiana University Auditorium. For a few centuries' worth of handheld puzzles that make the Rubik's Cube look like kid's stuff, visit the Lilly Library.
To see urban farming in action, head to the Hilltop Garden and Nature Center on the northeast side of campus. Youth programs foster the idea of growing your own food—a great component of healthier and more humane eating.
As for food, the following is a sampling:
FARMbloomington chef Daniel Orr and his superb sous chefs have mastered dozens of farm-to-table dishes (many of them vegetarian and vegan), and they love coming up with new ones inspired by their own gardens and by the daily harvests of local farmers. The day that I visited, delights included a soft+firm tofu scramble, vegan quesadilla (with a great faux cheese), and the Veganista, a roasted veggie pine nut pizza. While awaiting your meal, check out the walls, which are lined with intriguing collections of food art, vintage farm tools, and, ahem, bedpans.
Roots on the Square was all-vegetarian until the recent addition of fish dishes, but there are still plenty of great vegan appetizers, vegan entrées, juices, and vegan desserts. I loved the Thai ginger curry vegetable plate, sweet potato soup, and sampler platter.
Laughing Planet is known for its fantastic vegetarian and vegan burritos and all-vegan soups (e.g., vegan chili and Hungarian mushroom). Since I ate so much for lunch, I was in the mood for a salad when I arrived at Laughing Planet for dinner. The Asian salad with vegetables, almonds, and a coconut-peanut curry sauce had me scraping the plate. The walls of the restaurant are bright and feature R. Crumb prints, bicycling posters, and Frank Zappa paintings by a local artist. The eatery also has a funky altar where patrons can leave notes (some implored kindness to animals).
In the same building, Soma is the place to go for great coffee and vegan desserts. One fit young guy returned to the coffee house within minutes of leaving to buy a second cappuccino chocolate chip cookie, saying, "It's that good."
Committed to running a local, sustainable business, Upland Brewing Company serves a few veggie dishes (go for the vegan portobello mushroom pizza or seitan tenderloin), supports environmental protection causes, and uses local fruits in some of its excellent microbrews.
In Bloomington, you can walk nearly everywhere except to the fine wineries and the Tibetan cultural center. But you can get to the latter by bicycle. By the way, Bloomington was the setting for the 1979 film Breaking Away, which won an Oscar for IU graduate Steve Tesich.
Make time to visit the serene, sprawling Tibetan Mongolian Buddhist Cultural Center.  The interfaith center features beautiful works of sacred art, including the new Mani Khorlo, which displays incredible prayer wheels and was dedicated this May when the Dalai Lama visited Bloomington. There are even low-priced overnight accommodations available. The only campus of its kind in the western hemisphere, it's a place to pray for something that will benefit all beings: more compassion in this world.
Have you visited Bloomington? If so, do you have any more recommendations?