Big Cats and Little Dogs—Can They Ever Get Along?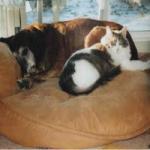 My family has always adopted big old dogs and big old cats. Integrating big old dogs and big old cats into our extended family hasn't always gone perfectly. There have been a few chase scenes and a few strategic swats, but over time, peace has prevailed. But I made an interesting observation that I wanted to share with you to see if your experiences have been anything like mine.
Our big dogs and cats often become great friends and sleeping partners. The cats love to have my sister Christy's big rescued Rottweiler come to visit, but they treat Ma and Pa's big dogs with mild indifference. They tend to hide or watch quietly from their lofty perches when strange big dogs come over, but when little dogs come to visit, yee-gads, it's a different story. These otherwise sweet old cats turn into a pack of brats.
At first, I thought it was because the first few little dogs they met were frisky and hyper and might be ready targets, but that can't be it. They are just as sinister when it's an old, slow-moving, minding-his-own business, pudgy little dog. Of course, they have always met under human adult supervision, and they have never done any harm to the little dogs, but the big cats seem to thrive on ganging up and stalking an unsuspecting little dog. Even ancient-cat Lucy, who normally barely pays attention to the younger cats, joins in the games.
Do big cats and little dogs just not mix? Is it because the cats see smaller dogs and feel that they can intimidate them? Am I the problem? Have I forgotten that there has always been an adjustment period, even with the big dogs? Do I panic too soon and spread my frantic vibes as I rush in to interfere? I am still not sure, and so I thought I would bring it to Prime for discussion.
I would love to hear from any PETA Primers on what their take is regarding this feline behavior. But I would also like to hear from you folks who have had big cats and little dogs who became fast friends. How did you do it?!