Being a Vegan in the Workplace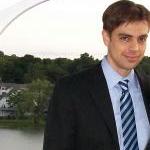 Where is it possible to find more animal-derived products than in a typical office environment? Colleagues wear wool suits and silk ties, and their shoes, belts, briefcases, bags, and wallets are almost always made from leather. The goal of the standard fast-food lunch delivery in an office seems to be to pile on as much meat and cheese as possible, and the typical meals at the company cafeteria usually aren't much better.
This is where I found myself four years ago, when I went vegan. After learning how animals raised for food and clothing are treated, I needed to find alternatives quickly. I didn't want to stick out like a sore thumb or give vegans a bad name by becoming some kind of pariah, so I figured that the best thing I could do for animals was to be a good example, remain inclusive, participate, and not come off as preachy or too judgmental. Of course, I continued to be involved in team lunches and other office functions just by making different food choices and sharing delicious vegan food—I often brought in vegan versions of lasagne, mac and cheese, chicken nuggets, cookies, brownies, macaroons, and donuts. I found out where to shop for quality clothing and which brands to look for (to this day, no one at the office has ever been able to tell that I wear vegan clothing unless I share it with them). Basically, it was all just a matter of being resourceful and figuring out what to look for on the menu and where to shop for quality vegan clothing.
Previously driven by price point, vegan men's clothing options are quickly moving into a new territory: high-quality and great-looking leather and wool alternatives. Most department stores offer men's professional slacks that are made with cotton or microfiber (many people are allergic to wool, so employees are familiar with alternatives). And many popular brands—including J.Crew, Ralph Lauren, Calvin Klein, Perry Ellis, Liz Claiborne, and Brooks Brothers (seasonally)—carry suits and pants that are vegan. You can find shoes, belts (I like the Truth brand), briefcases, and wallets at Mooshoes in New York. You can find great shoes at Vegan Wares and Vegetarian Shoes, and my new Novacas are truly indistinguishable from my old leather shoes. Finally, you can buy sharp, high-quality vegan ties from Jaan J. (which I like better than my old silk-tie brand). There are also plenty of options here and here.
When it comes to office lunches, almost all non-Western foods—including Chinese, Indian, Middle Eastern, and Mexican—tend to have a variety of meatless main dishes. This is true even for Italian cuisine—almost all dried (not homemade) pastas and marinara sauces are vegan. And many company cafeterias now serve veggie burgers and fries. Salads loaded with beans and veggies are good, too, but I don't like to be the vegan who eats salad every day, so I try to mix it up. Besides, there is such a thing as vegan junk food (potato chips, pretzels, Oreos, cakes, and cookies), and I want my colleagues to know it.
Overall, I've found that because people often spend more time at work than at home, workplaces can provide us with some of the most open-minded and supportive people in our lives. A few of my coworkers have even gone vegetarian or vegan, and many have reduced the number of meat or dairy products in their diets after striking up conversations with me. Beyond that, I believe that being a vegan in the workplace demonstrates those qualities that any professional organization should look for in an employee: integrity, ethics, resolve, compassion, loyalty, honesty, and commitment.
Are you a vegan among nonvegans in the workplace? If so, please share your experiences.
This guest post was written by Martin Moore. Martin currently lives and works in Manhattan, where he manages projects for a global financial-services firm. Prior to moving to New York with his wife, Robyn, he was a business owner in Connecticut and was active in both state and municipal government, including serving as an elected city councilmember.