Royln's Super Vegan Cheese Dip Recipe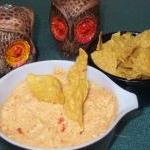 There's no question about it: My Ma is a fabulous vegan cook. She makes the most delicious soups, stews, veggie dishes, breads, and desserts. But for decades, Ma has been "experimenting" with vegan cheese and vegan cheese sauces. Some of her experiments have been less than successful, so you can't blame me for having a tendency to grab the doggies and head out for a long walk when I hear her say, "Kerry, I want you to try my latest cheese concoction." But this last time, before I could escape, she lured me in by saying, "I got the recipe from Royln, and I only changed one thing. I substituted red peppers from the garden for the pimentos in the recipe. I want you to tell me what you think."
Our friend Royln is also known for being a great vegan cook, so this got my attention. I grabbed a chip and dug into the "cheese" sauce. It was so wonderful, I couldn't stop eating it! For many people, the biggest hurdle in going from vegetarian to vegan is giving up cheese, so it's nice to find a really delicious cheese dip replacement that is yummy and easy to make. Here's the recipe:
Royln's Super Vegan Cheese Dip
3 cups water
1/3 large fresh sweet red pepper
3 Tbsp. arrowroot or cornstarch
3/4 cup cashews
3 tsp. salt
6 Tbsp. nutritional yeast
6 Tbsp. oat flour (finely ground rolled oats)
3 Tbsp. fresh lemon juice
1 1/2 tsp. onion powder
In a high-powered blender, blend 1 1/2 cups of the water and all the other ingredients.
In a saucepan, bring the remaining 1 1/2 cups of water to a boil. Slowly stir in the blended mixture and cook until thick.
The dip can be stored in the refrigerator, and it's great with chips, crackers, and especially vegetables such as broccoli.
Bon appétit! Come back and let me know how you liked it!