Mesa Verde: Cliff Dwellings and Agrarian Legacy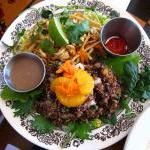 From roughly A.D. 700 to 1300, Ancestral Puebloans chose to settle on cliffs and farm the local mesas instead of migrating with the seasons. The area where they settled-between Albuquerque, Denver, Salt Lake City, and Phoenix-is among the richest archaeological spots in North America.
Want to explore the cliff dwellings up close? At Mesa Verde National Park, expert rangers lead $3 interpretive hikes through Cliff Palace, the largest cliff dwelling found to date in Northern America, and Spruce Tree House, where you can descend into a kiva, a ceremonial chamber supported with six timber pilasters. Central to each kiva is a fire pit, an innovative ventilation system, and a "sipapu," a hole that was meant to allow spirits to rise.
Up for climbing? Another $3 tour takes you you down a sheer drop and through narrow tunnels (bring a camera, but leave your backpack) into Balcony House, a cliff dwelling inhabited by nimble pre-Columbian Indians between A.D. 1180 and 1270. Balcony House's plaza looks down 600 feet into Soda Canyon. Explorers can peer into the 38-room dwelling, its food storerooms, and its two kivas, which are dug into the plaza floor. What appear to be windows in the fine stonework walls are actually doorways.
The sites were alcoves that formed over centuries as sandstone froze and thawed over and over again. Realizing that the south-facing mesas offered longer growing seasons, residents grew corn, beans, squash, and amaranth on mesa tops and harvested nutrition-dense nuts from piñon trees. The site appears as it did 800 years ago, aside from the ladders that were installed to spare visitors from having to use the fingerholds and toeholds that were carved by the original occupants.
Mesa Verde recently added new tours that include lunch and transportation to multiple sites. The five-hour "Far View Explorer" ($25 per adult, $12.50 per child) tour visits spots such as Mummy Lake, a 90-foot-diameter reservoir that's among America's oldest engineered structures. Ditches were dug to channel snowmelt and rain into the reservoir.
For more insight on the region's native peoples, must-see places include the Anasazi Heritage Center and the adjacent Canyons of the Ancients National Monument. The center is a small yet superb archaeological bastion, and it is wheelchair-accessible. The same goes for its excellent paved interpretive nature trail, which leads to breathtaking valley views.
By A.D 1300, the cliff dwellers left the area, likely after depleting the soil, trees, and water. But the area's agrarian tradition has been carried on by independent farmers. Some are transplanted urbanites who decided to raise food for themselves and sell the surplus. A few of these farmers have opened restaurants, such as The Farm on Cortez's Main Street (which is now being revitalized). The eatery turns its mostly organic, all-local produce into delicious vegan or easily veganized salads, such as the Asian salad (whole-wheat noodles, shredded carrots, sunflower sprouts, and cilantro-peanut-ginger dressing) and the "Nature Girl" salad (red quinoa, black beans, mango, sunflower seeds, jicama, oranges, scallions, and apple cider vinaigrette). I also liked the green chili stew, not to mention the charmingly mismatched plates, reclaimed furniture, and decor!
A few minutes away at 90 Mildred Rd., the café at Let It Grow Nursery & Garden Market roasts its own coffee beans and serves a nice selection of plant-based dishes and treats that are sourced from its orchard. It's a fine example of a truly local, sustainable, and environmentally responsible business.
For accommodations with spectacular views-and morning peeks at mule deer and other gentle animals-stay in Mesa Verde's Far View Lodge, which is open from late spring through October. Enjoy a glass of wine on the patio of the lobby, which also houses the Metate Room, named for a traditional food-grinding stone. Enjoy the blue chips and hummus, and ask the talented chef to prepare plant-based fare.
Planning to visit this beautiful region? Check out mesaverdecountry.com or call 1-800-530-2998. To find out more about Mesa Verde National Park, go to http://www.nps.gov/meve or call 1-866-292-8295.
Have you been to this stunning area? If so, do you have any more recommendations for vegan-friendly food and accommodations?