In the Midst of a Vegan Pregnancy
With just a few weeks left until my child is born, I thought I'd take some time (while I still have it!) to reflect back on my vegan pregnancy experience.
So far, my pregnancy has been quite easy. I haven't experienced any of the morning sickness, the food cravings, or the overwhelming fatigue that so many women go through. I'm also on the low end of the weight-gain scale, which is a good thing. And to my surprise, I've had no scary moods swings or emotional outbursts-and my husband can attest to that! Let's hope that the delivery goes this smoothly.
As with any pregnancy, it's important to stay healthy. I've been taking my daily vegan prenatal vitamin, vegan DHA and vitamin B12, and exercising-usually 30 minutes walking on the treadmill each day. My diet consists of a variety of foods, including organic fruit and vegetables, beans, lentils, quinoa, oatmeal, tofu scramble, sandwiches, veggie burgers, salads and the occasional splurge on vegan versions of mac and cheese and soy/coconut ice cream. When we eat out (which, living in New York City, is often), I can always find lots of options at Mexican, Asian, Indian, and Middle Eastern restaurants. I'm not exactly Betty Crocker in the kitchen, so when I do cook at home, I usually just throw a bunch of ingredients together and hope for the best. I love baked veggies covered in olive oil and spices mixed with quinoa, tempeh, lentils, or beans-sprinkled with nutritional yeast and flax-seed oil, which make it extra tasty. It's healthy and easy to make, and it's packed with tons of calcium, protein, and vitamins.
( Picture below of me @ 8 months pregnant)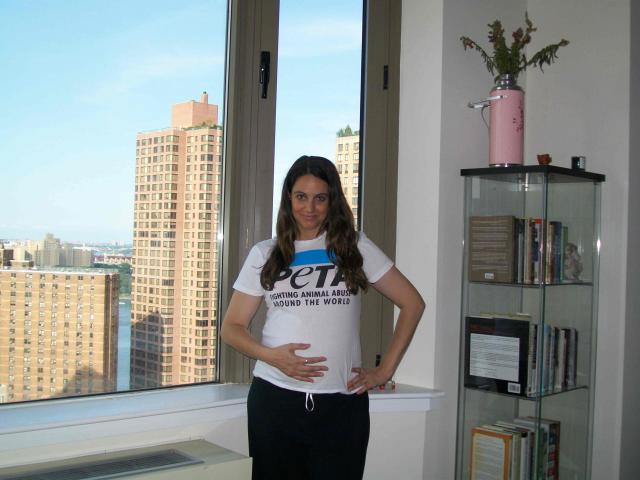 Going into this, I expected more resistance from the doctors (who are typically educated via the traditional food pyramid), but what I experienced was quite the opposite. They were all fine with my diet choice and confirmed that as long as I eat a variety of nutritious foods, I should have a healthy vegan pregnancy. In fact, the American Dietetic Association-the nation's largest group of nutrition professionals-stated that "appropriately planned vegetarian diets, including total vegetarian or vegan diets, are healthful, nutritionally adequate, and may provide health benefits in the prevention and treatment of certain diseases. Well-planned vegan diets are appropriate for individuals during all stages of the life cycle, including pregnancy, lactation, infancy, childhood, and adolescence, and for athletes."
Check out Skinny Bitch Bun in the Oven for information on how to have a healthy vegan pregnancy.
Now that I've conquered my pregnancy, I'm looking forward to the birth of my baby and raising a vegan child. I'll update you on my experiences, but I would love to hear from others who have been through a vegan pregnancy or are raising a vegan child. Please share your thoughts!
This guest post was written by Robyn Moore who is the PETA Foundation's creative copy manager. She has her master's degree in education and is an avid traveler who has taught English in Nepal, volunteered with wildlife in South Africa, and lived abroad in Switzerland.