From Jet-Setter to Animal Advocate: The Life of Princess Elisabeth de Croÿ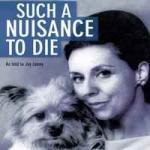 Princess Elisabeth de Croÿ (1921-2009) may not have been well known in most circles in the U.S., but for those who care deeply about animals, she was a kindred spirit and, for animals, a friend. As a young woman, she traveled from Hollywood, California, to the upper echelons of Washington, D.C., and beyond. At the age of 46, she left this glamorous and intoxicating world to turn her attention to helping animals and founded the Refuge de Thiernay, a sanctuary for dogs and cats.
She became an early proponent of spaying and neutering to reduce dog and cat suffering by decreasing the number of unwanted litters. In the early 1970s, she arranged neutering programs that simultaneously provided training to young veterinarians as well as free or low-cost surgery for those who could not otherwise afford it.
She did not limit her concerns just to dogs and cats, however; nor did she give up traveling.  Wherever she went, Princess Elisabeth never forgot the plight of animals. Anytime she had an opportunity to help or speak up for animals, she did so. While traveling in India, she gave media interviews during which she decried the "filthy barren prisons" in which animals were kept at the Delhi Zoo.
Her creativity and persuasiveness impressed many people. A longtime opponent of steel-jaw traps—having known dogs who lost legs to the traps and knowing of other animals' struggles to free themselves, even by chewing off their own limbs—the princess was called upon to testify before the European Parliament in Strasbourg in 1988. She collected half a dozen traps, which she wore around her neck as she entered Parliament, stirring much interest among the members. Seven years later, the EU banned both the use of traps and the importation of fur obtained through their use.
During a visit to Paris by the president of Chile, the princess pressed him about a bullfight that she had been told was scheduled in his country. The president, who opposed bullfighting, had not been aware of the planned spectacle. He subsequently had the event canceled, and bullfights were thereafter banned in Chile.
Her autobiography, Such a Nuisance to Die—as told to Joy Leney of the World Society for the Protection of Animals (WSPA)—relates many more stories about her tireless work for animals. "I have found on many occasions," she wrote, "that speaking up for animals can make people stop and think …" Through her autobiography and the lives that she touched with her compassion, Princess Elisabeth continues to speak up for animals.