Deadly Dog Days of Summer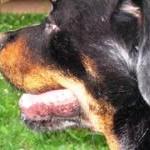 This post has been previously published on PETA's Dog Blog.
A few years ago, we took our dog Sydney out for a hike with some friends on a gorgeous hot summer day. The first part of the trail was up a steep, treeless hillside — Sydney made us feel out of shape as she trotted easily up in front of us. Halfway up the hill, we met a man sitting with his Rottweiler dog. The dog was a big friendly fellow, well over 100 pounds, and was panting heavily in the shadeless heat. We asked if the dog needed some water, but the man assured us that he was fine. "King just needs a rest before we finish going up the hill." So we walked on.
Dogs are prone to heatstroke, much more so than their human companions — they can only cool themselves by panting and by sweating through their paw pads. Most people know about the risks of leaving a dog in a hot car, but dogs can easily overheat while exercising on a summer day. Heatstroke is most common in large breeds and in short-nosed dogs like boxers and bulldogs. But other factors can also contribute, like obesity, heavy fur, lack of acclimation to the heat, and even excitement. Dogs just adore running around to explore new sights and smells and don't always show good sense about how hot the weather is.
We had a nice picnic at the top of the hill and made sure that Sydney had lots of water. We started back down toward the car, sweaty and happy, about an hour later. When we got back to where we had left King, we were dismayed to find him stretched out flat on his side, breathing rapidly with foam on his lips. The man waved away our offers of help. "He'll be OK in a few minutes." But we knew this dog was in trouble. We poured our water over his black fur and tried to get him to drink, but he fell unconscious as we tried to help him. We told the man that his dog needed a vet immediately and offered to help transport him down the hill. The man didn't quite seem convinced, but our two biggest guys hoisted King up and we got moving.
King died before we made it back to the parking lot.
I felt just sick at seeing such an unnecessary tragedy. Could we have saved him if we'd had some medical training? What if we had intervened when we first met the dog, while he was still conscious?
The best treatment for heatstroke is prevention.Try to avoid exercising your dog on a hot day (except for very early in the morning or late at night), and consider whether it's really in your dog's best interests to go with you to the Art & Wine Fair or the flea market when the sun is beating down. If you must take a dog out in the heat of the day, take frequent shady rest breaks, and offer lots of water.
Heatstroke can strike surprisingly quickly. Know the symptoms, so you can recognize it in your own dogs and in other dogs whose caregivers aren't as well informed. Early signs include heavy panting, difficulty breathing, excessive salivation, and lethargy. These are followed by confusion or lack of coordination, dry gums, and possible vomiting or diarrhea. Collapse and coma come next and can quickly lead to brain damage and death. If you see these signs, quick action is needed to save Ginger's life. First, get her out of the direct sun and offer her water if she's able to drink it. Second, get her temperature down by wetting her thoroughly with cool (not cold) water. It can also help to place cool water-soaked towels on her head, neck, armpits, and groin. Third, get her to a vet as quickly as possible. Some delayed complications from heatstroke are very serious, so it's best to see the vet even if she seems to be recovering.
Every hot day when I see a dog panting in the sun, I remember King. After that heart-wrenching experience, I got some pet first-aid training, and I promised myself that I will fearlessly butt into other people's business if an animal's safety is at stake. But I ache every time I think of King, because what we did that day wasn't enough.