Vegan on The Cheap Contest Winner!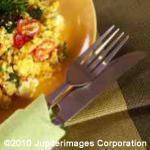 Congratulations to Prime reader Aly, who just won a copy of Robin Robertson's fantastic new book, Vegan on the Cheap.  Here is what Aly had to say about PETA Prime: "I am new to veganism and appreciate all of the information that I gather from PETA Prime. Even though my family may not be too happy, I overload them with information and petitions. I have already changed 4 family members!"
Aly, we love you too! Be on the lookout for your new book, full of yummy frugal vegan recipes!
As we did in the contest announcement, we will leave you with a recipe from this great book, which you can buy from our catalog by clicking here.
Smokey Joes
I like to use seitan to make this spicy version of sloppy joes, but you can also use frozen crumbled tofu, grated tempeh, or cooked bulgur to good effect.
8 ounces seitan
1 tablespoon olive oil
1/2 cup minced onion
1/2 cup minced green bell pepper
2 garlic cloves, minced
1 tablespoon soy sauce
1/2 cup ketchup
1 tablespoon tomato paste
1/4 cup water, or more
1 or 2 chipotle chiles in adobo sauce, finely minced
1 teaspoon dark prepared mustard
1 tablespoon chili powder
1/2 teaspoon smoked paprika
1/2 teaspoon Liquid Smoke
1/2 teaspoon salt
1/4 teaspoon freshly ground black pepper
4 burger rolls
1. Shred or finely chop the seitan and set it aside.
2. Heat the oil in a saucepan over medium heat. Add the onion and bell pepper, cover, and cook until softened, about 10 minutes. Add the garlic and cook 30 seconds longer. Stir in the reserved seitan and the soy sauce and cook for 2 to 3 minutes to lightly brown.
3. Stir in the ketchup, tomato paste, water, chipotle chile, mustard, chili powder, paprika, Liquid Smoke, salt, and pepper. Mix well, adding a little more water if the mixture is too dry. Simmer for 5 minutes to blend flavors.
4. When ready to serve, spoon the hot mixture onto rolls and serve hot.
Serves 4