Do Your Kitties Hog the Bed?
I wonder how many other PETA Primers slink into bed sideways and go to sleep curled up in the fetal position in order to keep from disturbing the kitties who are sprawled so cutely on the bed, sleeping peacefully.
Am I the only one who wakes up in the middle of the night and chooses to lay there all crunched up and far away from my human sweetie because there is a purring kitty asleep on my head and one or two others snuggled around me?
I know logically that if I move and wake the kitties, they will have a million other comfy places to sleep. I realize that they can catch up on their beauty sleep all day while I have to get up and go to work.
I tell myself that I have legitimate reasons why I don't want to disturb them. After all, if I wake them, they might all spring into action thinking that it's morning and time for breakfast. Or I think about how it might ruin everything for lover boy Romeo, who is curled up next to Lucy (who normally wants nothing to do with him). But really, the truth is that I don't want to disturb them because I love laying there feeling the love. I am just plain honored that the kitties want to snuggle up and sleep with us.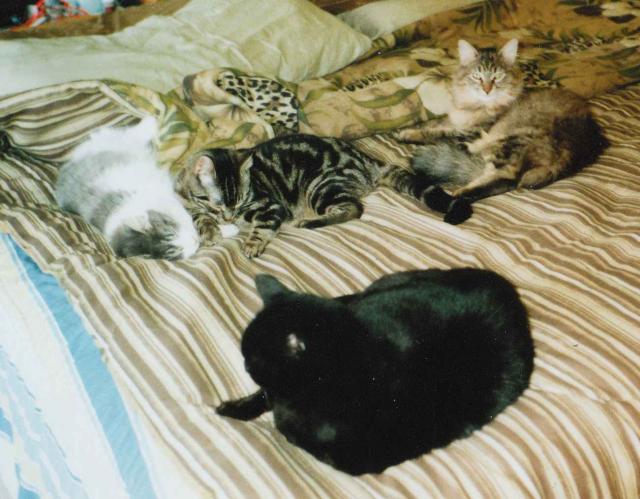 Do you have any "kitty-hogging-the-bed" stories to share? Do your kitties (or doggies) hog the bed?