Denver: Urban Revival Ushers in More Cruelty-Free Dining Choices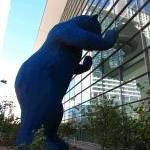 Old West architecture and a New West vibe meet in Denver. Signs of animal-friendly attitudes added enjoyment to my brief stay there.
I spent an evening at The Oxford Hotel, a boutique hotel that is friendly to animal companions. The hotel has restored exterior and interior elements, such as an art deco canopy, and some pieces date back to the hotel's establishment in 1891. An old-school martini bar is featured in the hotel's Cruise Room, which has the distinction of being downtown Denver's first bar. The Cruise Room opened the day after Prohibition was repealed in 1933. The bar's decor highlights include period bas relief wall panels depicting "toasts" from around the globe and a jukebox that can punch up Tony Bennett, "The King of Mambo" Pérez Prado, or little-known vintage soul tunes.
Over a refreshing Odell microbrew, I learned that Colorado's eminence in the beer industry is owed greatly to the state's supply of clean mountain water. The city's current mayor made a name with Denver's first brew pub, Wynkoop Brewing Company, which occupies a former LoDo mercantile building that features pillars and pressed-tin ceilings. The pub is near Union Station, an 1885 Beaux Arts structure whose expansion as a major transportation hub is underway. Nearby Coors Field, which was completed in 1995, kicked off the neighborhood's revival.
From LoDo, you can stroll to the beautiful parks that border the South Platte River via the Millennium Bridge, which features a 200-foot-tall masted support structure that resembles ship riggings. Southward, there's a mile or so of urban eye candy along the 16th Street Mall, an area that only allows pedestrians and buses. There, you can hop on free hybrid shuttles that run every few minutes. A stop that is worth making is the still-shiny Denver Art Museum. Or you can start the day with a fair-trade coffee, vegan treat, and good read at the Tattered Cover Book Store.
Veggie food? Some recommendations: WaterCourse is uptown in the shadow of Denver's skyscrapers and has been featured on VegCooking.com. Server Jamie Miller persuaded me to try the Rosie Palmer Hibiscus Tea and Seitan Buffalo Wings, which won over my nonvegan companions. Also good: the portobello mushroom cap. (I found the refried beans bland though). WaterCourse supports local causes such as B-cycle, a citywide bike-sharing system. Launched this past Earth Day, B-cycle makes hip red rides available at four dozen stations around the city.
Another veg-friendly eatery is Root Down, a new bastion of seasonal locavoria that embraces vegetarian and vegan cuisine. Options at Root Down range from Organic Carrot & Thai Red Curry Soup to Country Fried Organic Tofu (with agave yams, organic braised greens, and stoneground mustard-cranberry coulis). If omnivore colleagues take you to Vesta Dipping Grill, try this eatery's veggie Samosas and Coconut Masala Grilled Tofu Steak. And Cafe Europa is now advertising vegan-friendly changes to its menu.
Not to be missed: Beet Box, a vegan bakery that also does gluten-free. How do ginger-pear-cocoa tarts sound to you?
Have you been to Denver? If so, do you have any other animal-friendly suggestions?