Conflicts of Consistency: Michael Vick Comes to Town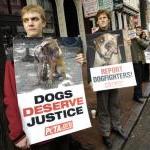 [This is an occasional series exploring questions of consistency and other moral dilemmas facing vegans and animal rights advocates.]
How's this for controversy? Recently, quarterback and convicted dogfighter Michael Vick was invited to our town by a local charity, the Children Deserve A Chance Foundation, to speak to young people about the importance of making the right decisions in life.
A crowd of 4,000 was expected at the local convention center. Tickets, in the form of wristbands imprinted with the phrase "Every Decision Counts," were sold at area schools ($5 for students, $10 for adults). The school that sold the most tickets would get a personal visit from Vick. But with ticket sales less robust than expected, the event was postponed for a week to provide more ticket revenues. In the end, 2,500—mostly school-aged young people—showed up. The foundation, which helps at-risk youth, raised more than $25,000. Vick reportedly did not receive a fee for his appearance.
Vick's appearance did, however, get local media coverage as well as some protesters and letters to the editor in the local newspaper.
"It was more successful than we ever could have imagined," the charity's founder was quoted as saying in the local newspaper. "And not just because of the money we raised, but because of the impact he had on the kids. We didn't care if we made money or lost money on this. It was all about the kids."
This event raises so many questions. Since Vick served the time for his crime, doesn't he deserve a second chance? But what about the dogs who didn't get a second chance?
Does an appearance such as this only elevate Vick to celebrity status for impressionable young people? Do we really want any animal abuser to be considered a celebrity or hero figure?
Since there was no indication that Vick addressed the real issue of his abuse of animals, shouldn't he be explicit in these appearances in telling young people that it is always wrong to mistreat, harm, or abuse any person or animal?
Let's turn the tables. What would the reaction have been if the local animal shelter held a fundraiser that featured a former child abuser? Why are unrepentant animal abusers entitled to a second chance, while child abusers aren't? Isn't all abuse wrong?
If Vick had abused children instead of animals, would the Children Deserve A Chance Foundation still have wanted him to speak to young people? And would the Philadelphia Eagles still have wanted him on their team?