Charlotte's More Than Just Racing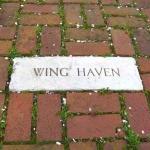 Sure, Charlotte, North Carolina, is the site of the new NASCAR Hall of Fame, but there's much more to this city than racing and barbecue. Dazzling new architecture mingles with classics such as the Dunhill Hotel. The must-visit Levine Museum of the New South mixes history with social consciousness; catch "Changing Places" before this award-winning exhibit closes in November.
Evidence of the Queen City's expanding eco-awareness includes the LYNX light rail and new downtown Ritz-Carlton, which combines LEED green-building certification with luxury and companion-friendliness—and it offers complimentary bike loans.
Bicycling is a great way to discover Charlotte's colorful neighborhoods. Pedaling northeast, I found good local music and the vegan-friendly Crêpe Cellar in gritty-cool NoDa (North Davidson).
The next day, I biked to the South End district for a great tour by Joe Brickey starting at the Charlotte Trolley Powerhouse Museum. She pointed out cotton mills repurposed as art spaces, the dogs-welcome Canine Cafe, and a massive parking garage accented with push-button public art (try it!).
Back in the South End, Common Market beckoned with vegan sandwiches, Fair Trade brew, and good conversation. Common Market hosts lots of events, from local food fairs to a "Wine Flu" tasting clinic. After browsing the district via bicycle, I enjoyed an awesome and healthy vegan platter—with farro, my favorite grain—at The Liberty Gastropub. Open just a few months, it's already a local hotspot.
I'd heard that songbirds flock to the rich habitat of Wing Haven Gardens, but humans have trouble navigating to its Myers Park address. Eventually, after biking through a lush city park where families walked dogs and played by the lake, I found the house-marked only by a simple sidewalk inset reading, "WING HAVEN." For decades, Elizabeth and Edwin Clarkson cultivated beautiful gardens that attracted dozens of species of birds and other wild citizens. Elizabeth, a concert pianist, also nursed injured birds back to health. In the years since the couple died, neighbors volunteer to open the gardens to nature lovers.
Back to Center City. On S. Tryon Street, the Wells Fargo Cultural Campus offers a new cluster of venues: Harvey B. Gantt Center for African-American Arts+Culture, the Bechtler Museum of Modern Art (where you'll want to learn the story behind Marino Marini's amazing bronze horse; the sculpture's patina has dulled where children petted it!), and the Knight Theater, where I saw a riveting modern dance performance. The Mint Museum Uptown is scheduled to open in October.
Several trendy, relatively new downtown restaurants offer plant-based selections—and you won't be "settling for options."
At Mez, a hip haven at EpiCentre on E. Trade Street, Chef Klime Kovaceski is delighted to whip up modern Mediterranean-inspired vegan gourmet fare. Server Christy recommends perfect wines (mostly blends, the night I visited) to pair with vegan dishes. Among the treats: small plates of roasted beets, gnocchi pan-seared in truffle oil, vegan risotto gumbo, a tomato-eggplant sensation, and a chewy thin-crust vegan pizza studded with greens, roasted figs, and artichokes. Craving Asian? ENSO, also at EpiCentre, can do vegan options with market-fresh ingredients. Dress for casual/upscale. Even the chef at posh sky-high Bentley's on 27 adds finesse to plant-based gourmet, with a tart sun-dried tomato-mushroom tabbouleh dish and decadent sorbet.
Visiting Charlotte fills you up in every way. By the way, if you want to lodge close to the airport, the Red Roof Inn offers courteous service, great rates, and soon-to-be-renovated rooms.
Planning a trip? Check http://www.charlottesgotalot.com or call 1-800-231-4636.