PETA Inspirations: Pelican Rescue While on Vacation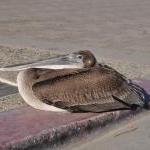 PETA supporter Andrea Shuman recently helped rescue a pelican while on vacation in California. We thought that what she did was extremely inspiring, so we asked her to write a blog post about her experience.
My husband and I vacationed in California in August 2009. One evening, we drove to Capitola for an outdoor beach concert. Driving into the bustling beach district, we had difficulty locating a parking spot. While we circled the main road, I was busy people-watching from the passenger seat.
That's why I noticed a distressed pelican in the middle of a busy street. My husband promptly stopped the car in the middle of the road, and I quickly jumped out. Moving slowly, I managed to walk up behind the bird in order to get him to walk off the road and onto the sidewalk.
As I pleaded for passersby to give me the number of the nearest animal control center, I simply could not believe the callous and ignorant behavior of many people. Teenagers began to throw items at the pelican and run toward him to try to scare him—laughing all the while. Other families tried to feed him popcorn and chocolate, clearly oblivious to the fact that this bird was in trouble. Some parents even viewed this as a unique photo opportunity for their young children.
In my heart, I truly believe that this pelican knew that I was trying my best to help and protect him.
With hundreds of people passing us by, only a few were kind enough to stop and help. A couple eventually helped my husband and I look for someone who could supply us with a number to call. Being from Canada, we were not familiar with wildlife-rescue protocol in the U.S.
After remaining with the pelican for more than an hour, we finally managed to secure a phone number. We called two kind individuals who rescue wild animals on a voluntary basis. Upon their arrival, they thanked us for calling them, as it was clear that the bird was injured (the bird was unable to fly, had severe cuts on his neck, was lethargic, etc.). They explained to us briefly that because of unregulated fishing off the docks in the harbor, birds often became tangled in the fishing wires or hooks. But there's no way of knowing what really caused his numerous injuries.
Words cannot express how grateful we were to see these two compassionate people arrive in their car, giving their time that evening to come to this vulnerable pelican's aid.
It is people like these who keep me believing in the human race and the importance of doing whatever we can to protect animals who are unable to protect themselves or speak up for their rights.
To this day, my husband and I often wonder about the fate of this lovely bird.
The Shumans' persistence got this injured bird off the streets and into the hands of somebody with the training to help. This site has plenty of useful tips that will help you should you come upon animals in need while traveling.