No Dairy = No Problems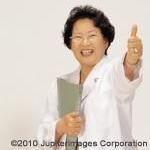 My sister Christy is a health and fitness fanatic. She does all kinds of sports, eats only healthy food, takes vitamins, and goes to the gym and works out every day. I don't do any of those things. My only consistent form of exercise is walking dogs and gardening. I drink tons of coffee, and although I eat lots of great healthy food out of the garden, I also eat potato chips and cookies when the garden isn't producing.
Christy was worried that since I stay away from milk products and don't work out or regularly take vitamins or calcium supplements that I might have bone-density problems. After several requests, I agreed to go with her and get a bone-density test. While we were having our bone density checked, I decided, just for fun, to also get tested for food allergies.
Our bone density test results were almost identical, and neither of us have problems in this area. However, the results of my food allergy test were really interesting. My result showed that I am "moderately to highly" allergic to dairy products. When I questioned this, I was told that this is "normal" and that almost everyone who is tested shows at least a moderate allergic reaction to dairy products.
I guess it is a testament to the power of the dairy industry. It has somehow managed to convince the public that dairy products are good for us and are necessary in our diets. But when you think about it, how can a food that almost everyone shows an allergic reaction to, and that our bodies have to produce antibodies to combat, be good for us? It really brings home the fact that milk is produced by mother cows to feed baby cows. It is not meant to be consumed by humans. Dairy products are NOT good for us, and all the propaganda from the dairy industry cannot change that fact—the same way that the industry's propaganda will never convince this Primer that it is one that the industry is not responsible for massive amounts of animal suffering.