Milking for All It's Worth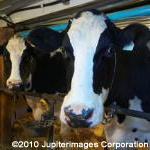 A recent news report put a whole new spin on the phrase "milking the issue"! The story involves a New York chef who-prepare yourself-is making cheese from mother's milk. And not just any mother's milk, mind you! He's churning the leftover breast milk of his fiancé, who is producing an ample bounty after nursing their new baby boy.
Chef Daniel Angerer, who refers to his new culinary cash cow as "liquid gold," offers a detailed description of the process (which I'll spare you). But make no mistake, this "Cheese Whiz" is quite serious about his clever concoction, spinning off gourmet specialties such as a caramelized-pumpkin-encrusted cheese ball with texturized concord grapes.
A quick Twitter survey by his television interviewer yielded an expected result: Viewers thought that making cheese from breast milk was-well-cheesy! However, before you rush out to your local deli, it is pretty likely that these "curds" will soon be on the "whey" out. The Food and Drug Administration is not too keen on the whole thing, so it seems that we are, indeed, left to cry over spilled mommy's milk.
Now initially, the idea of making cheese from human milk seemed way out there, but when I really thought about it, I realized that Angerer's "culture" change brings forth some interesting questions.
Why is it that, as adults, we find human milk distasteful, but we find animal milk palatable? Humans are the ONLY species who drinks the milk of another species. Now that's distasteful!! So, if you were looking for a perspective even higher on the "gross-o-meter" than cheese made from human milk-you just found it! There's not much that is tasteful about drinking the milk of mother cows who are forced to remain pregnant in order to produce milk for humans-not to mention the health issues that often result from following a diet that includes dairy products. Cows are sentient and social beings who grieve for their young. Calves are snatched away from their mothers right after birth-males are sold into the cruel veal industry and females suffer the same fate as their mothers. In addition to the milk industry, cows are also exploited by the meat and leather industries.
When we stop and think about the plight of cows and other animals who spend their lives on factory farms, human milk starts to look better and better. However, if history is any indicator, it's pretty likely that the chef's fiancé may soon be out of a job. Particularly if the chef subscribes to the old adage: "Why buy the cow if you can get the milk for free?"
What do you think?