Delicious Vegan Meals Shipped to Your Door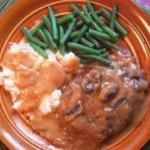 We've all been there: the end of a long workday, the night you walk in the door after a long road trip, or just those nights in general where you want to flop on the couch and watch a movie without spending a lot of time or money on dinner. Sure, you could order out, but why not just grab something quick and delicious from your freezer that could be ready in minutes? No, I am not talking about a typical instant microwave meal. I am talking about a mouthwatering creation from VeggieBrothers.com.
VeggieBrothers.com is the first and only online vegan restaurant featuring vegetarian versions of America's favorite classic dishes and more. It offers more than 40 menu items of entrees, soups, appetizers, and sides in three different sizes, and they're all 100 percent vegan.
With delicious creations like Tofu Scalloppini, Seitan Ribs, and Soy Chicken Cacciatore, all conveniently shipped frozen to your door, you will wonder how you ever survived without it. These products can be easily microwaved or defrosted and reheated using conventional stove-top methods.
These days, with more and more people staying in to help stay on budget, these quality meals are a luxury that you can afford. You can get restaurant-quality food right at home. So what are you waiting for? Go stock your freezer with some tasty meals fromVeggieBrothers.com!
This post by Mylie Thompson was originally published on PETA Living.