Craving Something Vegan in Williamsburg, Virginia?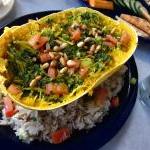 Planning to be in the Williamsburg area soon? I'm happy to report that there are some terrific places to find healthy, cruelty-free fare.
My first choice: Food for Thought, which offers many vegetarian and vegan dishes derived from healthy, sustainable, locally produced foods. Owner Howard Hopkins has also harvested dozens of wise quotations to decorate his usually packed Williamsburg restaurant. Some of his dishes, such as a cashew cream-based veggie bisque, are inspired by The Conscious Cook by Tal Ronnen. The Ultimate Vegetarian Platter features steamed pine nut-vegetable medley in spaghetti squash shell. The roasted red-pepper hummus also rocks.
Vegan-friendly choices are also found at Nawab Indian Cuisine and Gabriel Archer Tavern, where you can also take an $8 wine tour.
Another find: the lunch buffet at Williamsburg Lodge.  Executive chef Rhys Lewis plans menus around seasonally available Chesapeake and Virginia produce. Spring mushrooms flavored two of his simply great animal-free dishes. Learning of my vegan diet, a server dished up a refreshing lemon sorbet topped with fresh berries. My omnivorous companions happily helped devour it.
Lodging choices range from Colonial Williamsburg historic residences to nearby Kingsmill Resort and Spa, which offers comfortable condos with fireplaces, James River views, and three championship golf courses that employ green practices. The resort's food outlets have plant-based options.
Historic Jamestown Archaearium exhibits artifacts of America's first permanent English settlement, and you can watch current excavations in progress at this historic site. In addition to park entrance fees, there's a $20 ticket for the fascinating 90-minute Curator's Artifact Tour, conducted at 3 p.m. on the second and fourth Wednesdays from April through October. Details are available at http://historicjamestowne.org.
For visitor information, contact the Greater Williamsburg Chamber & Tourism Alliance at http://visitwilliamsburg.com or 1-800-368-6511.
Do you know of any more vegan options in Williamsburg?