To Go All the Way for Animals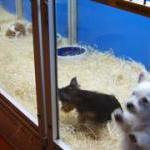 It all began when I first saw the "Help Wanted" sign on the window.  A new store was opening at CityPlace, a swanky, upscale outdoor mall in West Palm Beach, and upon investigation, I found out that it was a new pet store that would be selling puppies. When my blood pressure came back to somewhere near normal, I took a deep breath and decided that I needed to take steps to try and prevent this place from opening. The world does not need any more pet stores that sell puppies. The world doesn't need any more pet stores, period. There are already too many abandoned animals in this world-waiting in animal shelters to be adopted-and not enough good homes available.
I watched the progression of this awful enterprise with a mixture of horror and disdain, and when I saw the big ad in the newspaper announcing that the store would hold a "doggie fashion show" on the occasion of its grand opening, I decided that would be the perfect time for a protest. After all, the people were coming out to see the store open, so I would have a captive audience in front of the store.
As is my usual procedure, I visited the police department and requested a permit to hold a peaceful protest. They denied it, citing CityPlace as "private property." Hmm, really? Private property? An outdoor mall? That just didn't seem right. But no matter, I knew that I had to find another way.
I went online and designed an anti-pet store T-shirt. I gave the shirts to a couple of friends, and we went for a stroll near the pet store. Well, that didn't sit well with the store manager, so she called the cops. We figured, what the heck? They can't throw us out for wearing a T-shirt!
Oh, how innocent! Oh, how naïve! Oh, what a farce!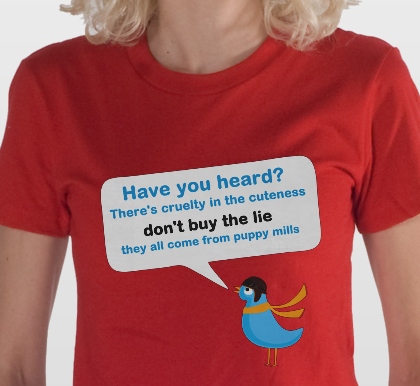 Moments later, we were accosted by two very imposing police officers who told us that we had to leave CityPlace immediately or we would be arrested. Arrested! For wearing T-shirts? In America? I protested, citing my First Amendment right to free speech. "That does not apply here," I was told by the bully. "Leave or I will arrest you now!"
Well, he won the battle that night, but we won the war. I contacted the ACLU and told them my little tale of woe. They were outraged, to say the least. Together, we filed a lawsuit in federal court demanding that we be allowed to protest in CityPlace, maintaining that CityPlace is, indeed, a public arena.
And that was it! I am happy to report that the case had a happy outcome. Of course, this sentiment was not shared by the mall manager, who complained about wanting to protect his tenants. Nor was is shared by the police chief, who only cared about the business perspective of things.
But in spite of them all, we did it. I ended up settling, and now I get to hold a protest in CityPlace-without being threatened with arrest-whenever I feel like it. And I will feel like it until this horrible place is out of business.
I wanted to share my experience with you, my fellow Primers, because this endeavor solidified my belief that you should never be afraid to go the extra mile for animals, and if you have to make a federal case out of something, so be it. Sometimes, people count on your ignorance of your rights to mislead and bully you. Don't take "no" for an answer.
Animals deserve nothing less.