Prime Action Alert: Sign Our Petition Against Ringling's Baby-Elephant Abuse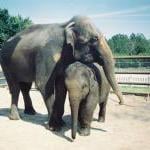 If a picture is worth a thousand words, then this billboard speaks volumes about how baby elephants suffer at the hands of the Ringling Bros. and Barnum & Bailey Circus.
The billboard, which shows a baby elephant being "broken" for life in the circus, was recently erected in Bossier City, Louisiana, just in time for the circus's arrival there. PETA is planning to erect the billboard in other cities that Ringling visits too.
The billboard's debut also coincided with a complaint that PETA filed with the U.S. Department of Agriculture (USDA) calling on the agency to revoke Ringling's animal exhibitor's license in light of the circus's long history of violating the Animal Welfare Act as well as its attempts to cover up the circumstances surrounding animals' deaths (as revealed in a New York Daily News exposé).
The case is fueled by dozens of photos taken by a retired Ringling elephant trainer who had regrets about his career and turned the photos, which he had taken at Ringling's misleadingly named "Center for Elephant Conservation" in Florida, over to PETA. The photos show trainers dragging baby elephants away from their mothers, tying them up with ropes, jabbing them with bullhooks, shocking them with electric prods, and slamming them to the ground.
Ringling's abusive training methods have contributed to the deaths of at least two baby elephants: One fled his bullhook-wielding trainer and drowned in a pond, and the other broke both hind legs after falling from a pedestal. Just recently, another one of Ringling's babies suffered from a serious herpes virus infection, most likely caused by stress. Many other elephants used by Ringling have also prematurely died.
If you agree that this is no way to treat a baby, please take a minute to sign the following petition urging the USDA to yank Ringling's license.
More: