Move Over, Black Beauty: Animal Rahat Saves Cutest Donkey Ever (and Lots More)!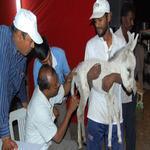 Did you read Anna Sewell's wonderful book Black Beauty? My cousins had horses who were loved as much as my family's dogs, and I've always been fascinated by these huge companion animals. I cried during the early parts of the book, but I love that Black Beauty eventually had a happy retirement.
In India, working bullocks, horses, and donkeys are a common sight. Poor working people overload the animals in a desperate attempt to earn more money, and almost none can afford veterinary treatment, even for broken bones. Others resort to harmful "cures" based on superstition (not unlike some country folk in this nation who insist that gunpowder will "treat" timidity in dogs, but I digress).
Thanks to PETA and PETA India, the wonderful Animal Rahat ("Animal Relief") program is providing free veterinary care, education in proper care of working animals, and even retirement for working hoofed animals. This is grassroots advocacy, education, and field work at its best!
Imagine veterinarians traveling in the burning heat on pitted, dusty roads to sugar mills, brick factories, and other places where overloaded, injured working animals are gathered to set up treatment camps. Animal Rahat, which has its own Facebook cause, brings water for the bulls and donkeys, tea for the drivers, and tents to provide some welcome shade for everybody. Talk about going to the root of the problem! These dedicated folks don't sit in plush offices waiting for customers—they head out in search of the most needy.
My fellow Prime blogger Steve Martindale blogged on the program before, so I thought that you be interested in reading the latest news from Rahat, which is at http://animalrahat.com/latestnews.asp. And, I'm sorry, but there is simply not a cuter donkey than the little pictured one on that page. I'll bet that once you read about the good work done by the group and take a look at the lovely animals it works with, you'll want to be part of this wonderful project.
Am I right?