'Meat's Not Green'—Make Plans for Earth Day Now!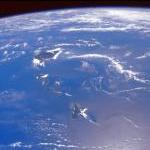 It has been said that climate change is humankind's greatest challenge and the world's most grave environmental threat. But there is good news-the solution to this problem is as easy as what you put on your plate.
This Earth Day, fight climate change with diet change. In addition to saving approximately 100 animals' lives each year, going vegan drastically reduces your carbon footprint and your impact on our beautiful planet. If you're not vegan yet, there's no better time than now to take the pledge to go vegan.
Check out and share these facts about how animal agriculture affects the Earth:
A 2006 United Nations study reported that factory farming is the leading cause of climate change, producing more greenhouse-gas emissions than all the cars, trucks, planes, ships, and trains in the world combined.
Livestock production accounts for half of our nation's

water consumption

and also pollutes our

air

and waterways.
More than 90 percent of all the land cleared in the

Amazon rain forest

since 1970 is used for meat production.
Join us this Earth Day (April 22) in telling the world that "Meat's Not Green!" Help animals and the planet by encouraging everyone you know to try a vegan diet!