Key West:Secret Garden Sanctuary for Birds and Habitat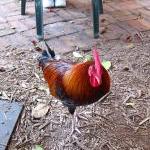 In Key West, pedestrians have the right away—and that includes hens and roosters. The beautiful birds, many of them shades of red and auburn, are literally free range, protected by law. They have ruffled the feathers of a few disgruntled folks, but I learned when visiting that the "Keysy" ethos is to live, let live, and be happy.
At Mile Marker 0 to 4 on the Overseas Highway, Key West is part of a 220-mile string of islands south of Miami. Known for relaxing and partying, there's deep concern among "conchs" (locals) for animals. Keysy organizations include Florida Keys Wildlife Rescue, Stand Up for Animals, and Adopt-A-Manatee.
Florida Keys Eco-Discovery Center on Old Town's western waterfront at the Truman Annex is a great place to learn about coral reefs, sea turtles, the petite Key deer, and other endangered beings—and admission is free.
Coral reefs are not rock but a diverse community of living organisms. The Center's "Living Reef" exhibit spans archival photos; vivid descriptions of the marine habitats of manatees, nurse sharks, and other gentle beings; and shipwreck illustrations (by the way, sunken ships become life-supporting artificial reefs). Visitors learn why mangroves are called "island builders," observe real undersea happenings without getting wet in a replica of the Aquarius research vessel, and discover how parrotfish create sand from algae. In the theater, follow a snorkeler in a breathtaking short film about marine life and our need to protect, not destroy.
I was glad to find various brochures raising awareness about injuries to animals and habitat destruction caused by boats and fishing as well as steps that people who engage in these activities should take to act more responsibly and humanely.
While visiting the 2-mile-by-4-mile island, I lodged at Ambrosia, one of many attractive and festive little bed and breakfasts in the center of Old Town.
Vegan dining in seafood-land? Since opening 18 months ago, Help Yourself has invigorated Key West's culinary scene with creative, mouthwatering, made-from-scratch, organic, and mostly vegan dishes, from raw tacos made from hydrated (not fried) tortilla shells and chopped Brazil-nut purée to vegan lasagne to chocolate mint, cashew-nut, dairy-free ice cream that wins over carnivorous diners. One of the co-owners came from Pure Food and Wine, one the best raw-food restaurants in New York City. I learned—not from experience, of course—that coconut water is a fine cure for hangovers.
Help Yourself's focus is on health and sustainability; it hosts a super farmers market with live steel-drum music each Sunday. The eatery, opened in a repurposed gas station, will be a major player in EcoWeek in November. Chef Michelle at Hogfish Bar and Grill embraced this guest with her tasty vegan creations and revealed her favorite vegetarian place, the Cafe. You can also veg out at Sugar Apple Juice Bar/Veggie Deli.
Kermit at Key West Key Lime Shoppe makes a tart vegan key lime pie. His shop is at Historic Seaport, close to Mallory Square, which features nightly sunset celebrations complete with cool human tricks.
I'm told that those free-roaming chickens are descendants of birds brought by settlers in the 1800s.
Feel like walking Key West yourself? Get info at http://www.fla-keys.com or 1-800-FLA-KEYS. Visit in late April and catch Conch Republic Independence Day!