The Canadian Seal Slaughter: An Expensive and Bloody Government Boondoggle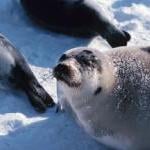 With the Winter Olympics just behind us, I could not help but write this post to remind people about the abhorrent annual seal slaughter in Canada that will be starting soon after the world turns its attention away from Vancouver.
How much does it cost to slaughter a Canadian seal? Well, it costs the seals—who are bludgeoned or shot to death on the ice—their lives. And the average pay for a sealer trying to make a buck in 2009 was just C$200. The Canadian government could help sealers find other ways of making a living, don't you think? Fur is dead,  after all, and the demand for Canadian seal fur has dropped precipitously as a result of the U.S. and European Union bans on seal products. Instead, the Canadian government is spending millions of dollars of taxpayers' hard-earned money to subsidize this massacre. Canada is even trying to sell seal products to China,  a market that Canadian Fisheries Minister Gail Shea says represents "tremendous potential for the seal meat industry in Canada." Huh? I'd say that a tremendous potential for a seal is living free on the ice and in the water, eating, growing up, mating, having some fun, and enjoying a few sunsets along the way! Not having life crushed and stolen at a young age for the sake of China's fashion and food industries.
The commercial seal slaughter, which accounts for 97 percent of seals killed each year, is not a subsistence trade but rather the result of extreme government waste. Canada spends more than C$7 million on the massacre every year through Coast Guard support, pro-sealing campaigns, and travel. The country also spends millions on market development for the industry. Profit from the slaughter barely exceeded C$1 million in 2009. In Newfoundland, income from sealing accounts for less than 1 percent of the economy. Political powers in Canada are pushing their agenda at the expense of not only the seals but also the Canadian people.
The cost of support ships alone is steep. The estimated cost to run the Canadian Coast Guard icebreaker ships, accompanying vessels, and aircraft that assist the sealing ships is C$4.7 million each year. In 2007, the Coast Guard spent an additional C$3.41 million freeing more than 100 ships that became stuck in the ice, and the Department of Fisheries and Oceans handed out C$7.9 million to owners of damaged boats.
The Canadian government is also spending millions of taxpayer dollars to fight the European Union's ban on seal products (estimated cost: C$10 million) and to market its bloody industry in Asia. Canada's Foreign Affairs and International Trade Department has spent an estimated C$362,000 on an "Advocacy Plan for Europe on Canada's Seal Hunt," which includes funding travel costs for officials and foreign journalists, building Web sites, translating materials, and screening pro-sealing documentaries. The department also posted a C$75,000 contract for a social-media adviser to promote the seal slaughter on Facebook and Twitter.
All this money could go a long way in helping sealers and industry workers directly by developing alternate employment opportunities in the Atlantic provinces. The seal slaughter makes no sense on any grounds, but it is treated as if the financial destiny of Canada depends on its success.
Underwriting the seal trade amounts to bailing water out of a sinking ship rather than rescuing those who are aboard. But you can count on this: With your help, PETA will continue to campaign against the commercial seal slaughter in Canada until not one seal faces death by gunshot or by a crushing blow to the skull with a hakapik or club.