One Dog's Great Escape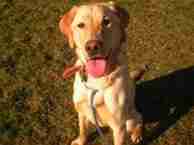 The Cruelty Investigations Department (CID) is on the frontline of PETA's work, and thanks to our caring supporters, CID is making a difference in the lives of thousands of animals each year. This is one story.
PETA's Cruelty Investigations Department thought that it had an open-and-shut case. A concerned neighbor had spotted a dog locked inside a cage in a cargo van in Wisconsin. The neighbor noted that the dog had been confined like this for more than 24 hours and turned to PETA for help. A simple phone call to inform the local animal control agency about the problem should have done the trick, but imagine our surprise when cruelty caseworker Sarah Sabotka was rudely informed that the dog was "just fine." The weather was bitterly cold, and the van could not preserve the dog's body heat. Food and water were nowhere in sight. Unable to escape his cage, the dog was forced to lie in his own waste.
Committed to helping this dog, Sarah went straight to the local sheriff's department. The dispatcher she spoke with was appalled by animal control's inaction and promised to help. Sure enough, Sarah soon received a call from a police lieutenant who assured her that a team was gathering immediately to go and seize the dog. Within hours, Sarah received word that the dog had indeed been rescued and taken to the local humane society. By the time the dog had been rescued, he had been in the van for at least two days.
When the dog's "owner" eventually contacted the humane society about retrieving the dog, he was persuaded to instead surrender the animal. The lucky pooch was put up for adoption, and—handsome fellow that he is—he was quickly adopted. The humane society tells us that he is thriving in his new home with a "fantastic family."
When our CID caseworker told the elated complainant the good news, the complainant said, "I am envisioning a happy home and loving family for this brave little boy. He would still be in that van if not for you and all your compassion and fire."
The moral of this story? Always speak up and say something if you think an animal is being abused or neglected. Never give up. If the local authorities stonewall, don't take "No" for an answer. Go straight to the top!