Mourning Maud, Part 3: A Final and Fitting Resting Place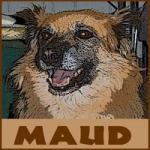 This is the third and final part of a series about my experience with losing my close companion Maud. I hope that sharing this might make it easier for others who are going through a similar experience. Parts 1 and 2 can be found here and here.
The carved wooden box provided for Maud's cremains was tasteful, but it was indistinguishable from countless others used by cremation service providers everywhere. Maud was far too special for that to be her final resting place. And we had the perfect solution—if we could still get it.
After our first two dogs, Babe and Maggie, were euthanized, we kept their cremains in the boxes provided, but we were always on the lookout for something more appropriate. Then one day, at a juried art show, we found the ideal containers: handcrafted wooden boxes that looked like antique books. The tops secretly slid open to reveal the felt-lined drawers inside—perfect for placing a bag of cremains. Because of the different wood varieties and their distinctive colors and grains as well as the different box sizes and patterns, no two were alike. Each one was as unique as the dearly departed it would contain. We also liked that these faux books were not obvious cremains containers. If you knew, you knew, but if not, you had no clue. Ken and I both worked at a college library, so the book idea was apropos. And even for a frugal vegan like myself, they were reasonably priced. We carefully selected one for Babe and one for Maggie.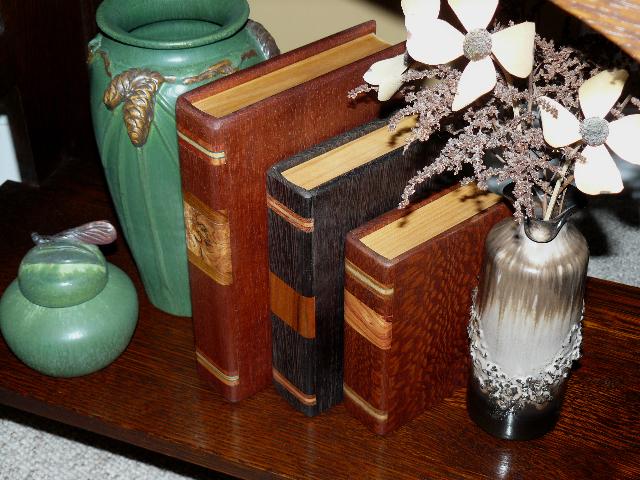 Now we needed another, slightly larger box for Maud. Fortunately, we were able to track down the artist, Steven B. Levine.* And yes, he was still making his excellent faux-book boxes. Through several e-mail exchanges with his patient wife, Dot, we found just what we had in mind. For less than $100, we had a beautiful book box made of makore wood with a spine inlay of maple burl shipped right to our door within a few days. Dot provided not only great service but also sympathy in our hour of deepest grief.
Below: Maud's book opened, with her bag of cremains and a lock of her hair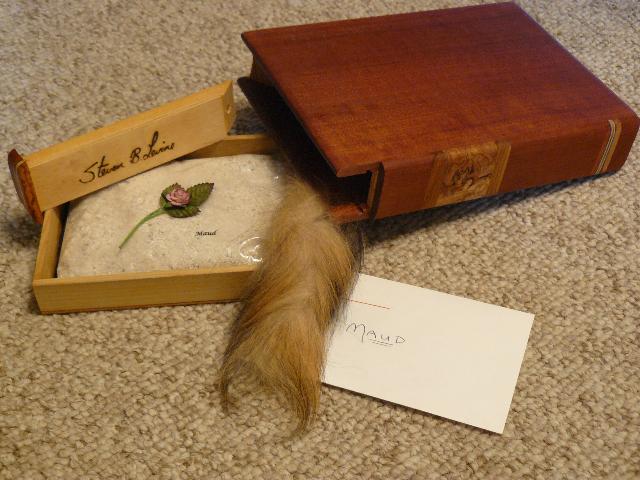 There was still one more thing to do for Maud—and us: create a tribute to her through PETA's True Friends Memorials. PETA provides this wonderful way to remember loved ones—humans or animals—for free. Maud's memorial includes additional photos and the option to make an online donation to PETA in her memory.
Our grief for Maud was soon channeled into providing another rescue or shelter dog with a forever home. Within a few weeks of beginning our search, we found Winnie. Our family on adoption day is pictured at my PETA Prime profile, but Maud will always be there with us in spirit.
Winnie is no Maud; there was only one Maud. But she is Winnie, and there is only one Winnie. This reminds me that each and every one of us—whether a human or an animal—is unique and special and deserves to be treated with respect and compassion.
Mourning has broken. Rest in peace, Maud.
*Steven and Dot Levine are based out of Dayton, New Jersey, and can be reached at 732-297-0131 or [email protected] Books and other boxes can be custom-made, including the option of engraving the animal's name and other information on the spine.
If you were moved by "Mourning Maud," please contribute to Maud's True Friends Memorial.