Making Gardens Beautiful Year Round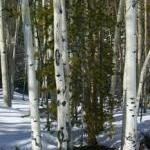 While spring may be fast approaching, many of us are depressed during this still-gloomy time of year by the bleak plant material in our gardens.
To cheer you and your gardens up, add plant or bulk material that make gardens colorful even in the winter. Everything on the list below can be planted year round, except evergreens (pine, juniper, and spruce), if the climate is dry during the winter, like it is in Colorado. This should help you create a master plan for your garden with lots of nontoxic plants that have year-round interest. All these plants can be enjoyed every month of the year.
The following is a list of plants that can survive the winter and are nontoxic to dogs:
Aspen trees have beautiful white and black bark in the winter. They are high-altitude plants that do best above 6,500 feet.
Barberries come in red, green, or yellow, and best of all, they are easy to grow and acclimate to any sun exposure.
There are different types of cotoneaster-spreading, Peking, or Tom Thumb. The berries are beautiful during the winter. If it's a mild winter, the plant will hold onto its leaves.
Cockspur hawthorn produces red berries in the winter. It's a beautiful, hardy tree for most climates.
Dogwood shrubs come in redtwig or yellowtwig. The branches add winter interest.
Pyracantha has orange berries that attract birds. This plant is a broad-leafed evergreen, so it holds its leaves in the winter. It has bright orange berries that are nontoxic to dogs.
There are lots of spruces-ornamental (such as Globosa), RH Montgomery, Norway, Bird's Nest, and Alberta.
There are numerous types of pines. Some shrubs are mugho, dwarf Scotch, and dwarf Austrian pine.
Spreading and upright junipers offer beautiful winter features. Blue junipers change to the color purple in the winter, but green junipers remain green all year. To create the perfect year-round garden, it's best to know what your chosen plants will do during the winter.
Ornamental grasses are beautiful in the winter, but dogs eat them. I tend to use them in front-yard designs or in an area in the backyard that dogs cannot access.
Bulk material is also beautiful in the winter. These include boulders and cobble (large, round river stone).
Have you tried any of the above? What did you think about the results?