Lobbying Your Congressional Representative on Behalf of Animals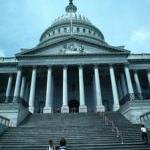 Recently, my husband, David, and I did something we never thought we would do: We met with our congressional representative to voice our opinion about a federal bill that would phase out the outdated and horrific use of monkeys, goats, and pigs in military medical training programs and phase in reliable human-based methods such as medical simulators.
Putting an end to vivisection is an important issue for me. Millions of individual animals suffer and die needlessly under the guise of science. Animals are cut open without being given any painkillers, implanted with devices in invasive surgeries, shot with staples and bullets, burned with blowtorches, given electric shocks, infected with diseases, and starved. Some have their limbs broken or amputated or their eyelids sewn shut—and the list of abuses goes on and on. The treatment of animals in laboratories is crazy, but what is even crazier is that there are alternatives! Computer models and simulators already exist, and in many cases all the vivisector has to do is make the switch from live animals to lifelike human simulators.
So when this bill came to our attention, David and I saw an opportunity to make our voices heard and hopefully have a positive influence on our representative's vote. It was easier than we thought. After one phone call, we had an appointment with a staff member in our rep's district office (each federal representative have an office in D.C. as well as in his or her home district). The staffer assured us that he would relay everything that was said in the meeting to our congressperson. We then did our homework, preparing for the meeting by thoroughly reading up on the issue so that we could intelligently answer any questions that might be asked of us.
During the meeting, we were friendly but firm in expressing our views. It is always best to remain professional and calm when asking for the support of an elected official. If your meeting is rational and civil, your rep will walk out of the meeting with a positive impression and be more likely to vote in your favor than if you are angry, aggressive, or rude. Those of us who are animal rights activists know all too well the horrors that animals endure every day on factory farms, on fur farms, in laboratories, in circuses, in zoos, and in puppy mills—and most of us are in a constant state of outrage—but a meeting with your elected official is not the time to shout your anger to the world. Save that for your next street protest. At the end of the meeting, we told the staffer that we would look forward to hearing from our representative once a decision had been made.
We walked away feeling like we had accomplished something. Our opinions as concerned citizens had been documented and would be passed along to our congressperson. And I had found a new way to be a voice for animals who can't speak for themselves.
Our elected officials need our votes to stay in office, and most of them welcome the opportunity to meet and talk with their constituents. You can find more helpful lobbying tips here.
Anyone else lobby your congressperson lately?