Growth Of PETA's Programs Made Possible By Bob Barker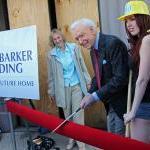 A member of the PETA Vanguard Society President's Circle and one of PETA's most generous supporters, Bob recently made a $2.5 million gift to fund this expansion as well as a $2 million matching "challenge gift," which will be used to help us raise additional funds that we will need in order to grow. In recognition of his tremendous generosity and compassion, we have named our new L.A. headquarters The Bob Barker Building to commemorate not only Bob's generosity but also his lifetime of courageous activism.
Here is why we value Mr. Barker's donation so much. Just as PETA investigators go wherever lasting change for animals is needed, PETA wants its staff members to be based wherever they can benefit animals the most. Since early 2005, PETA has had a very small Los Angeles office that has served as the home base of our Communications and Media departments. We have seen how important it is to have an office in Los Angeles: It has allowed us to develop strong partnerships with entertainment companies, journalists, and publicists as well as musicians, artists, and other celebrities who shape public opinion and trends-not just in Hollywood but around the world. Those partnerships have greatly strengthened our ability to reach people internationally with our animal rights message-from Delhi to Denver,Sydney to San Antonio, Bejing to Baltimore, and many places in between.
Of course, Los Angeles is where a lot of trends originate-particularly those that affect young trendsetters, who make up peta2's target audience. Los Angeles is also a main hub of online technology and, perhaps more than any other city in the U.S., is the place where early adopters of new Web-based technologies and social networking sites such as Facebook, YouTube, and Twitter live and work. Being in L.A. will help us reach an even greater number of young people with our cruelty-free message and will allow us to create pro-animal consumer trends for years to come by influencing the people who set those trends today.
When we move into the The Bob Barker Building this fall, we will be able to add to our media staff and strengthen its critical work for animals. We will also create a new home for three of our most important departments-our Marketing Department (which is responsible for using social media and the Internet to promote animal rights), our Youth Outreach Campaigns Department (which runs peta2, the largest youth-focused division of any social justice organization in the world, with more than a million young supporters), and our International Grassroots Campaigns Department (which develops and carries out all of PETA's activist-focused campaigns to stop the suffering of animals).
For all of that and much more we thank you Mr. Bob Barker.