Cheers for Vegan Beer!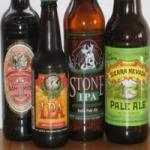 I was talking with a friend about a great beer I had just purchased. She asked me if it was vegan. I had no idea. Somehow, I was always up to date on whether the wines I drank were vegan, but being a new beer drinker, I didn't even realize that some of the very same animals products used in producing wines were also used in beer production. I thought that beer was made using nothing more than water, malt, hops, and yeast.
So I decided to do a little research. I found lists of so many possible animal products used in beer production that I am much more diligent now when choosing my beer. The following is a list of those possible animal ingredients:
Albumin: derived from eggs or dried blood
Casein/Caseinate: derived from milk
Charcoal: sometimes derived from bone
Colorings: sometimes derived from insects
Glyceryl Monostearate: an anti-foaming agent that sometimes is an animal derivative
Isinglass: swim bladders from fish
Lactose and lactobacillus (lactic acid)
Gelatin: made from bones, skin, and tendons
Pepsin: a heading agent sometimes derived from pork
Sugar: white sugar is often whitened using bone charcoal
Honey: derived from bees
I also found some great Web sites that give us numerous choices of vegan beers, detail which beers contain animal products, and much more. Here are few of the sites that I found helpful:
Vegan beer section of Vegan Connection: This site provides a handy list of vegan beers that you can print out and carry with you on shopping trips. Scroll to the bottom of the list, and you will find a link to vegan wines as well.
Barnivore:

This site

provides information on the nonvegan products in your beer, current updates to the list above (Vegan Connection), as well as a spot for you to input your own findings to help in updating the site.
Vegan Vanguard's Beer Section: This site is full of useful information. It has the brewery's name, whether the brewery's beer is vegan, and possible concerns pertaining to other animal rights issues.
For even more Web sites with vegan beer info, simply Google the words "vegan beer," and many more sites pop up.
My vegan lifestyle choice was made because of animal rights issues. Every single day, my decisions are influenced by my belief in PETA's credo—the fact that animals are not ours to use for food, clothing, entertainment, or experimentation or for any other reason. And that means everything—right down to the beer I drink.
Do you have a favorite vegan beer?