Vegan Dining in New York City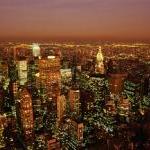 New York City is one of the greatest cities for vegan dining, so why not plan your next vacation here? In between sightseeing, you can experience some of the best vegan food on the planet!
For an extra-special meal, I'd recommend heading to the world-renowned Candle 79 on the Upper East Side. Paul McCartney, Alicia Silverstone, and Dr. Oz are frequent visitors. Or if you're in the mood for a raw-food experience, go to the chic Pure Food and Wine in Union Square, where each dish looks like a work of art. Another upscale option is the vegetarian Korean restaurant HanGawi— located  a few blocks from the Empire State Building. The space is a gorgeous, peaceful oasis, but be prepared to sit on a pillow on the floor. That's part of the zen experience.
Blossom restaurant and its two cafes serve cruelty-free fare based on their lovely motto, "Blossom is first and foremost animal caring." The nicest space is their Chelsea restaurant, which is located in a two-story historic townhouse. The soy-bacon cheeseburger, "chicken parmesan," and tofu BLT are my favorites.
Just a block from Blossom in Chelsea is the recently opened Cocoa V—the first and only vegan wine and chocolate bar in the city—which is 100 percent organic, vegan, and fair-trade. It sells individually wrapped chocolates and also offers a vegan cheese plate and to-die-for chocolate fondue—which, when paired with the organic wine, is the perfect treat for a Sunday afternoon or evening outing with friends.
If you're in the mood for a grungier, no-frills dining spot with a punk feel, check out Kate's Joint in the East Village, where you can enjoy diner-type food, including vegan meatloaf, mashed potatoes, burgers, pizza, and shepherd's pie. If you want a cozier atmosphere with raw options, look down the block to Caravan of Dreams. You can get hummus (raw or cooked), nachos, and lots of other thoughtfully prepared dishes with tempeh, greens, and grains. Its lemon/tamari/ginger salad dressing alone makes it worth the trip.
Also in the East Village is Angelica Kitchen—an excellent choice for homemade, organic food. Its menu changes daily according to what's in season, the weather, and availability of fresh ingredients. Go for the Dragon Bowl—you won't be disappointed!
For a fun experience, walk down "Indian Row" on E. Sixth Street in the East Village and choose one of the inexpensive (entrées for $6 to $7!) Indian restaurants. My favorite is Panna Two. You can't miss it—just follow the stairs up, and it's filled with thousands of Christmas and red-hot chili-pepper lights. Dine there, and you'll feel like you're in the middle of a modern art exhibit. It's a unique experience!
The East Village also offers many great choices for your sweet cravings. Whole Earth Bakery and Kitchen is a family-owned, tiny (no seating), organic bakery that sells vegan cookies, cupcakes, brownies, cheesecake, puddings, and scones as well as other cruelty-free treats. It also offers meals to go. If it's a nice day, take your order and go sit in nearby Tompkins Square Park—a hot spot for people-watching.
Now onto ice cream. Lula's Sweet Apothecary is a small ice-cream parlor with barstools and a setting straight out of the '50s. Its shelves display vintage apothecary jars filled with sweets and sprinkles. It even makes vegan egg-creams. Stogo—which is all organic—has more than 44 flavors of ice cream (soy-based and coconut) as well as cupcakes, cookies, and chocolates.
The best-known bakery in NYC is Baby Cakes,  located on the hip Lower East Side. The inside is a blast from the past, with a retro art-deco interior and the cashiers and bakers dressed in trendy '50s outfits. It's famous for its out-of-this-world cupcakes, and it also has donuts! When you're done getting your fill of treats, walk a block down to MooShoes—perhaps the best-known vegan shoe store in the country. It has a large selection for both men and women. It also has belts, bags, and other accessories.
If you're craving vegan sushi, look no further than Soy & Sake in the West Village. It offers many choices, including mock eel; spicy "tuna, salmon, and shrimp" rolls; and of course hot and cold sake. It's the only vegan sushi restaurant in the city, so it's definitely worth a visit.
Also in the West Village is another one of NYC's most popular vegetarian restaurants, Vegetarian Paradise 2 (and its neighbor, Red Bamboo, which has almost the same menu). The bestseller is by far the crispy soul chicken. In all my travels, I have yet to find a better faux chicken, so please don't leave there without trying it. It's the perfect place to take nonvegan friends and family.
Peacefood Café—owned  by a former antique dealer, thus the charming interior—has some of the best vegan food in the city. Definitely try the chickpea fries! And if you don't have time to eat there, at least stop by for its fabulous desserts—including macaroons, cookies, brownies, tiramisu, pies, strawberry shortcake, scones, and so much more.
For those of you who need some relaxation in this bustling city, try ordering vegan pizza from Slice or Café Viva (which has two locations), and take it back to your hotel room—or to Central Park for a lovely picnic. In fact, Slice will deliver directly to your blanket in Central park!
If you find yourself craving some spiritual time while in the city, head over to Jivamukti Yoga Studio in Union Square—a big supporter of PETA and animal rights. You can pop in for a quick session to recharge your body and senses, and you can also shop in the boutique, which offers a wide variety of vegan books, DVDs, CDs, clothing, and other accessories. It even has a nice vegan café onsite.
Many of the restaurants above also offer fabulous brunches with tofu scramble, French toast, and pancakes, so definitely check those out too.
While sightseeing, don't forget to grab one of those world-famous pretzels from a street vendor—they happen to be 100 percent vegan!
New York City is a mecca of vegan food, and this is only the tip of the iceberg. Check out one of the many online guides, including the one at Happy Cow, for a list of vegetarian restaurants. But don't feel limited by that list—you can find vegan meals in just about any restaurant. Also, order a copy of the book, The 2010 Vegan Guide to New York City, and don't forget to pack it with you on your trip (along with this post)!
Do you have any favorite vegan restaurants in New York City?
This guest post was written by Robyn Moore. Robyn is the PETA Foundation's creative copy manager. She has her master's degree in education and is an avid traveler who has taught English in Nepal, volunteered with wildlife in South Africa, and lived in Switzerland.