University of Utah Update: Lawsuit and New Video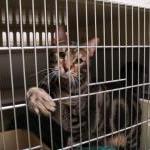 Last December we celebrated the promised release of Robert-the tabby who was purchased by the University of Utah (the U) for $15 from the Davis County Animal Shelter and used in a cruel experiment in which his skull was cut open and electrodes were implanted in his brain. Robert has been adopted into a new home, but the majority of the 105 dogs and cats who were purchased from Davis County Animal Control last year remain caged in the U's labs and won't be given the same chance.
In the months since we first released footage of our undercover investigation inside the U, PETA has repeatedly attempted to obtain documents related to the purchase of animals like Robert, but county officials have failed to cooperate, in what appears to be a violation of the state's Government Records Access and Management Act. So PETA filed a lawsuit against the county demanding access to these documents, which will shed more light on Davis County's betrayal of both animals and community members who are unaware that the beloved companions they surrender may be mutilated and killed in laboratories.
PETA launched a new video called "Betrayal of Trust," which reveals the plight of some of the dogs and cats whom the U purchased from local animal shelters for its cruel and deadly experiments. The video contains footage from inside the Davis County Animal Shelter and the U's animal laboratories, including a clip of Lady, a friendly German shepherd whom the U purchased from the shelter for $20. Experimenters cut open her neck and implanted a medical device for a heart experiment. At the end of the experiment, Lady will be killed and "go to the dump," as one vet tech in our new video explains.
PETA's working overtime to ensure that shelter animals will no longer be betrayed by Davis County and the University of Utah. Please take just a few moments to help by contacting the school and demanding an end to this shameful practice.
This post by Logan Scherer was originally published on The PETA Files.