Tilikum Is a Mama's Boy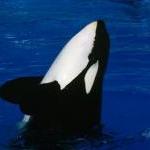 Actually, all orcas are very close to their mothers. Unless they are kidnapped—as  poor Tilikum was at the young age of 2 or 3 years—orcas spend their entire lives with their mothers. Males leave their pod (their family group) long enough to breed, then rejoin their kin. The pod is led by the eldest living female.
I've seen baby and adult orcas hunting fish and cavorting with unbridled joy off the shores of San Juan Island in Washington State. I remember when Brad Andrews, the frequent spokesperson for SeaWorld, was taken by animal advocates to see his first free orca whales. These trainers do indeed know how to keep prisoners alive (for shortened life spans), but they mislead the public when they claim any educational value to their shows. Some of them have never even seen a free whale!
Look at the bent dorsal fin on Tilikum. It is seen only on captive orcas. Isn't it time that everyone came to understand how twisted it is to keep these animals in captivity for entertainment? You can add your voice to those of the late Jacques Cousteau and other compassionate people who have said, "No jails for whales!" at https://secure.peta.org/site/Advocacy?cmd=display&page=UserAction&id=2945.