The Frugal Vegan: Scoring a Grocery-Store Hat Trick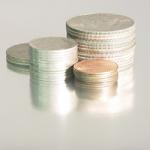 This is the first in a new series, ?The Frugal Vegan,? which will be offering tips and tidbits on how to spend less, save more, invest better, and give wisely based on the real-life adventures of the thrifty author, who never met a penny he didn't pinch.
I love to save money. Seriously-I really love to save money. And the more I save, the more I can contribute to animal advocacy causes, like PETA.
First up: grocery shopping. I turn every grocery trip into a quest to see how much I can save. There are sales, special offers, and coupons. Each one is a great way to save in and of itself, but the real trick to serious savings comes from combining them-especially all three into the much-coveted grocery-store hat trick. The compounded results can be astounding.
For example, recently, one of the grocery stores where I regularly shop had Green Giant frozen vegetables on sale-including several varieties without butter sauce that were vegan. (I know, how pathetic that we have to check the ingredients of vegetables to make sure that they're vegan!) Regularly $1.79, they were on sale for $1-a 44 percent savings. Pretty good deal, right? Sure, but it gets better.
For every eight boxes of frozen vegetables purchased in one shopping trip, you instantly got $5 off your grocery bill; that's eight boxes for only $3, or 37 1/2 cents per box-a 79 percent savings. Now we're talking serious savings. But wait-it gets even better.
I had a coupon for $1 off with the purchase of three of its frozen vegetables. Now it's a hat trick! If your grocery store allows you to use more than one coupon-and most do-you could go for the gold medal in frugal shopping. Buy nine boxes at $1 each, get the $5 off, and use three $1 off coupons, for a final incredible purchase price of nine boxes for only $1, or 11 cents each-for a 94 percent savings over the regular purchase price of $16.11!
There was no limit on the frozen-vegetable deal. The only real limitation is finding enough coupons (although it was still a great deal even without the coupons).
Here's a suggestion: Form an informal coupon exchange with friends, neighbors, and coworkers. Several of us do this where I work by simply circulating the coupon inserts among ourselves. Some libraries have coupon exchanges as well.
Even better, share your online coupons for vegan products with our Prime community on Facebook!
If I had managed to find eight coupons, I could have maximized this offer by purchasing 24 boxes (at $1 each), getting $15 off ($5 off for each eight), and redeeming eight $1 coupons (one for each three), bringing the final price for 24 boxes to just $1, or only 4 cents each-for a nearly 98 percent savings over the regular purchase price of $42.96!
Please share your grocery-store saving tips!