Prime Book Reviews: '1,000 Vegan Recipes'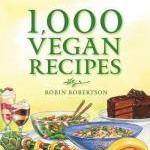 Robin Robertson's new cookbook, 1,000 Vegan Recipes, is a wonderful testament to the variety of delicious foods that comprise the vegan diet. With more people opting for healthy meals, it makes sense to offer unique and different culinary tastes to expose everyone to the joys of the vegan table, and 1,000 Vegan Recipes does just that.
While Robin uses many everyday ingredients to make the recipes easily accessible to everyone, she has a way of combining them into very creative dishes that are appealing to cooks of all skill levels and abilities. And with 1,000 recipes in this book, you can just imagine the variety of fantastic meals and desserts just waiting to be enjoyed.
Her book also includes tons of helpful kitchen tips, nutritional and cooking charts, guidelines for ingredient substitutions, and something I have not seen in many cookbooks—a chart for pan substitutions. Ever tried making brownies when they call for an 8-inch-by-8-inch pan and you don't have one? Robin's book can help you with that.

I was one of many recipe testers for Robin, which meant I cooked and sampled plenty of recipes in this book before it came out to make sure that they turned out delicious and perfect. They did! This book is loaded with awesome ideas for great dishes.
Since a picture tells a thousand words, follow this link to see a few of the fabulous dishes I cooked up while recipe testing. I have included the titles of the recipes so that you can easily find them in Robin's cookbook. This is just a small sampling of the wonderful recipes contained in this book; there are just too many to include all of them.
It's exciting seeing all the great vegan cookbooks coming out this year. Personally, I think Robin's 1,000 Vegan Recipes is one of the best yet, and it's certainly a perfect addition to anyone's cookbook collection. It's the one book you can go to time and time again for pretty much anything you can think of that you would want to eat, serve your family, or cook up for that fancy dinner party with friends. And it's a valuable resource full of creative and tasty plant-based recipes for the millions of people who aren't yet vegan but are trying to eat healthier and more ethically.
You can see more of Robin's recipes, along with pictures, on her blog at www.globalvegankitchen.com.
What's your favorite vegan cookbook?