My Favorite Winter Soups and Stews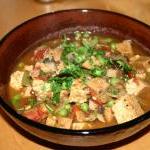 One-pot meals are by far my favorite recipes to cook for dinner. Not only are they easy to prepare, you also have only one pot to clean up in the end. Soups and stews are one in the same for me, because I love a really thick soup. Often, even when I am making soup, it turns into more of a stew.
The following recipe was given to me by a friend years ago, and I pull this one out every winter. I have to admit, I have changed it a little bit along the way. It's probably the easiest meal I make because everything goes into the pot with no pre-sautéing or pre-cooking of any of the ingredients. It's easy to revise according to your moods and what your taste buds are craving. Try adding some red or white wine, or try it with mushroom broth instead. And it's hearty enough for those nonvegan friends and family members to enjoy.
Easy Winter Soup or Stew
2-3 cups water or vegetable broth (more, if you want it soup-like)
15-oz. can diced tomatoes, with their juice
1 tablespoon Italian herbs, or a mix of your favorite herbs
1 tsp. ground fennel or fennel seeds
1/2 onion, diced
2 cloves garlic, minced
1/2 tsp. red pepper flakes (optional)
1 package tempeh, extra-firm tofu, or any other faux meat that you prefer, cut into bite-size chunks
1/4 cup kalamata or pitted and sliced green olives
Salt and pepper, to taste
1 cup peas (I use defrosted frozen peas)
1/4 cup chopped fresh parsley
Put all the above ingredients, except the peas and parsley, into a large pot. Stir together and simmer, covered, for about 40 minutes. Stir in the peas and parsley and serve in a bowl with some garlic bread, or serve on top of brown rice. You can even toss this with pasta.
For variety, you could add garbonzo beans, kidney beans, or white beans with, or in place of, the tempeh, tofu, or faux meats. Try adding more vegetables, especially things that are already in your fridge, such as zucchini, mushrooms, carrots, cabbage, or potatoes. You could stir in some baby spinach at the end of the cooking time instead of the peas. Experiment with different spices and herbs. A touch of fresh squeezed lemon juice in your bowl adds a different dimension to this meal. Put a small bowl of capers on the table for a salty garnish. Just remember to add more liquid or more canned tomatoes if you start adding more beans or vegetables, and you can't go wrong.
This meal is even better the next day, and I often double the recipe so that I am sure to have leftovers. You can also prepare this recipe using a slow cooker or crock-pot-just put in all the ingredients in the morning, plug it in, and turn it on. And voilà! Dinner is ready that evening. Here are some other great slow cooker ideas to enjoy this winter.
I hope you enjoy playing with this recipe. I'd love to hear some of your versions of easy soup and stew recipes or variations on my recipe.