Mourning Maud, Part 1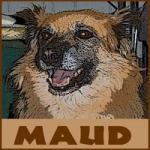 This is the first part of a three-part series about my experience with losing my close companion Maud. I hope that sharing this story might make it easier for others who are going through a similar experience. Part 2 can be found here and part 3 here.
We gently petted Maud as the vet's assistant held her and the vet gave the injection. Maud immediately relaxed and then slumped over. Within a few seconds, she was gone. I paraphrased the line that was recited when Lincoln died: "Now she belongs to the ages." We were all still and quiet, only to be startled by several postmortem respiratory gasps, which the vet assured us were not uncommon. We then spent some time alone with Maud.
There are dogs—and then there was Maud. My partner, Ken, and I had been immediately drawn to her at our local animal shelter three years earlier. She looked like she could have been a sibling of our two German shepherd mixes at home, Nellie and Toby. Her fur was thick but soft as velveteen, like a luxurious teddy bear. The shelter estimated that she was 7 years old. We have a soft spot for older canines, and as a larger, long-haired dog, her eventual fate had she remained at the animal shelter was dubious at best. We adopted her the same day and named her Maud in honor of Maud Haldeman, who had founded the local animal shelter in 1917. We later learned that ours was at least Maud's fourth or fifth home. That baffled us, considering that she was as sweet as could be. At last, ours would truly be her forever home.
And for the most part, we all lived happily ever after—or at least until one morning in January 2009, when Maud suddenly collapsed with stroke-like symptoms. She made a slow and steady recovery into the spring after the vet determined that her collapse had been caused by vestibular disease. But as spring turned to summer, the recovery went into reverse. By August, Maud was becoming increasingly immobile and her quality of life was rapidly deteriorating. The decision to euthanize is always accompanied by two guilt-ridden questions: "Did we act too soon?" and "Did we wait too long?" The answer to both was "no."
Now Maud was gone, and our mourning had begun. The loss was profound.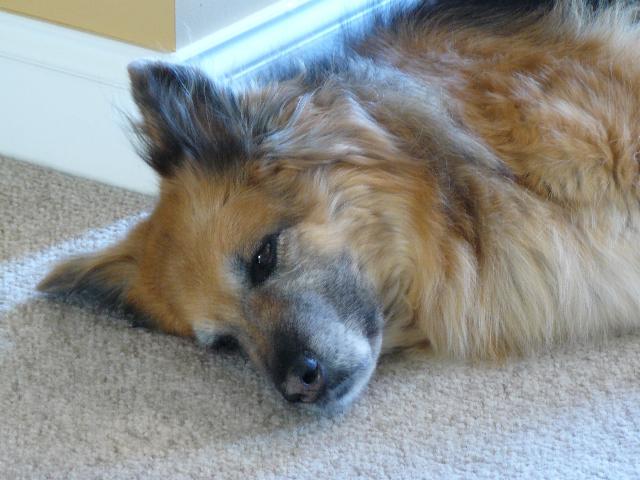 Maud would remain in the vet's morgue for a few days until the cremation. Before we left, a lock of her thick fur was trimmed for us to keep. And then we left—without Maud. One of the saddest images possible is that of someone leaving a vet's office with an empty leash. Fortunately, Nellie and Toby were waiting for us at home.
I had two unusual requirements for Maud's cremation. The first was that I was to be the one to transport Maud to the crematorium. So just past noon the following Monday, the vet staff respectfully carried Maud's cardboard casket to our car—our charcoal-colored PT Cruiser had always reminded me of a British hearse, and now it truly was. I attached a bouquet of wildflowers to the box, and then the funeral procession began.
The other unusual requirement was that I was to be present at Maud's cremation …
If you were moved by "Mourning Maud," please contribute to Maud's True Friends Memorial.