Jacksonville: Animal-Friendly Urban Villages, Parks, and Beaches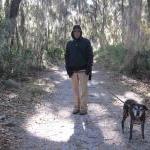 On Florida's northeast coast near the Georgia line, Jacksonville is best known for business. But the metropolis holds rewards aplenty for cross-species vacationers.
Usually, when I'm surrounded by many handsome mixed breeds, it's at an adoption fair. But I recently enjoyed a good deal of time among canines, with smiling humans in tow, who were welcome guests at the Hotel Indigo. The posh-cool boutique hotel opened in 2009 in Tapestry Park, a new urban village near the center of Jacksonville.
Hotel Indigo sits by a large pond reflecting puffy white clouds; the pond is ringed by a walkway on which guests stroll with their dogs. Couples enter the hotel with dogs by their side and cats in carriers—the property happily welcomes all well-behaved beings.
Dogs are welcome at most places we stopped, from beachside café patios to Fort Caroline and the Timucuan Ecological and Historic Preserve,  two free-admission national parks to the north of Jacksonville. Symbolic of a bloody past, Fort Caroline is surrounded by serenity across the water from an industrial area. We liked the photo board on which rangers mounted snapshots of visitors and their animal companions.
As sunlight streams through Spanish moss-draped branches, we learned about tree ecology and the resourcefulness of the native Timucua people. They ate saw-palmetto berries and ferns (which I thought rather tasty) and spun Spanish moss into garments. French settlers adapted that idea for mattress stuffing. Some trails allow bicycling, but instead, my family hiked around the Preserve's bird-filled marshes and woodlands, where our dog, Petunia, performed botanical investigations by nose.
Ready to explore the city on bicycle? While e2ride bicycle tours can't accommodate companion animals, the new company's founder and tour leader donates a portion of proceeds to animal protection and eco-conservation nonprofits. Leigh Burdett's tours run three to four hours, covering a choice of areas from Jacksonville's beaches to storied neighborhoods.
During a tour of the Avondale/Riverside neighborhoods by the St. Johns River, Burdett explained that the eye-popping profusion of exterior colors and styles—Colonial Revival, Georgian, Queen Anne, Mission, Gothic, and even Prairie-style with those hospitable covered porches—resulted from an influx of architects ready to build homes for city folk who fled downtown after the Great Fire of 1901 ignited inside a mattress factory. We saw the mansion where Johnny Weissmuller swam laps between Tarzan movies, the wonderful statue of nude Winged Victory resisting nude muses, and Riverside Park, where turnstiles were erected in the late 1800s.
After that, we were ready to hit one of Jacksonville's great farmer's markets!
Planning a trip? Get info at http://www.visitjacksonville.com.