Columbia, S.C.: Funky Fun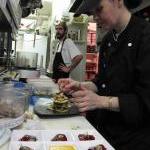 Because South Carolina was the birthplace of the Confederacy, Columbia's museums are rife with war artifacts, but luckily that is not all they contain. During my visit, I was drawn to the natural science exhibits at the South Carolina State Museum and University of South Carolina's McKissick Museum. Conveying concern for individual species and a desire for a balanced ecosystem, they acknowledge humans' impact on the Earth's habitats and inhabitants.
A warm sense of humor pervades Columbia. One downtown parking lot features "Tunnelvision," a mesmerizing trompe l'oeil mural painted in 1975, and "Busted Plug Plaza," a super-sized hydrant. Both were created by local artist Blue Sky.
The Columbia City Ballet mounts sizzling and unique productions such as Dracula, and even at the Columbia Museum of Art's chamber music concerts, humor bridges the ebullient and unusual selections.
With so much to enjoy, you can forget to eat. But the hungry can find vegetarian selections in cosmopolitan Vista district bistros and casual eateries in east-of-campus Five Points. While vegan dishes aren't as prevalent here as in some cities, many chefs will accommodate you. Miyo's has a good variety, and Blue Cactus offers terrific bee-bim bop and Puerto Rican beans.
Best bet: Goatfeathers. Owner Jeff Helsley grows many ingredients in his organic garden, strives to make his food as environmentally sustainable as possible, and for years has mated healthy with heavenly while keeping prices low. Chef Eve Martineau does magic with raw, vegan cuisine. My picks: Pear Napoleon with porcini mushrooms and artichokes and the Red Beet Ravioli with house-made cashew nut butter, yellow pepper purée, chopped pistachios, and tarragon.
For exercise, stroll the lushly landscaped State House grounds or Three Rivers Greenway. Although bordering the downtown, the wildflowers, croaking frogs, and cicada serenades in the greenway make it feel like deep country.
You can find Columbia tourism info by calling 800-264-4884 or visiting FamouslyHot.com.