Caty's Heart Walk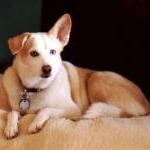 With Valentine's Day right around the corner, I wanted to take this opportunity to write a post about my extra-special valentine, one of the loves of my life: Caty.
We adopted 6-month-old Caty from an Arizona animal shelter in 1993. With undetermined heritage, she resembled a miniature husky with ice blue, marbleized eyes-one rimmed in black and the other in pink-and one ear up, one ear down. With such unique markings, Caty definitely stands out in a crowd! My husband and I volunteered in the shelter's lost and found and were immediately enamored with Caty. She remained unclaimed, so a few days later, we took her into our family.
Caty quickly established herself as the family "peacemaker." Over the years, this self-appointed greeter would meet new furry family members at the door with a simultaneous snarl from one side of her mouth and a lick from the other, earning the nickname "Lickosaurus." She also stood close by when it came time for her siblings' journey to the rainbow bridge.
Just before her 16th birthday, Caty fell ill. We discussed her condition with our vet because we knew that despite how much it might hurt us, if she was in any real pain, if her quality of life was really suffering, we would have to put her to rest. However, at this time, we were reassured that she was still OK.
One quiet, moonlit night, Caty seemed restless. She was unsteady, so we gently carried her outside, staying close in case she stumbled. When she did, we leaned over to steady her but had to refocus our eyes to see what lay in the soil at the tip of her toes. A heart-shaped rock! I'd collected heart-shaped rocks for years, but in the 18 years we'd lived in this house, I had never found a single one in our yard! Caty was determined to navigate the rest of the backyard, and it was then that I realized that it was perhaps time for her to go sooner than later. When her walk ended, unbelievably, we had collected seven heart rocks from each of her stops!
The next morning brought our first day, in over 15 years, without Caty. We have never found another heart rock in our backyard, but here is the miracle: Since the night of Caty's "heart walk," it seems like we see heart shapes everywhere, not just in rocks but in food, clouds, and especially in nature. Each heart sighting is a precious message from Caty that all is well and a reminder of the love we shared.
Have YOU had any heart sightings? Did your companion leave you with a lasting loving memory? If so, please share it with us this Valentine's Day in honor of our beloved companions.