Bus-Riding Cat Killed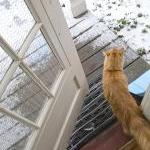 photofarmer / CC
I have sad news to report. Casper, the friendly cat who made headlines after it was discovered that he spent many of his days "commuting" on the number three bus in Plymouth, England, was killed by a hit-and-run driver last month. After seeing the way that people drive in England, it's surprising to me that Casper survived as long as he did.
When I was in London several years ago, I saw a drunken Andy Capp look-alike almost get hit by a speeding Mercedes—the car was so close that its wind draft spun the man around. Then I saw a bus approaching, and I ran out into the road and tried to alert the man, but he was so soused that he had no idea what I was talking about. I wound up physically dragging the man out of the way of the bus. The bus driver—to his credit—actually slowed down, unlike the Mercedes driver.
It was probably someone like the Mercedes driver—a person speeding carelessly—who hit Casper without even a glance in the rearview mirror.
While many people were charmed by Casper's fondness for bus rides, his untimely death is evidence of how dangerous it is to allow cats to roam around unsupervised. Cats are thought to have approximately the same intelligence as a 2- or 3-year-old child. Would any of us dream of letting a toddler go off for a stroll alone? Why don't we think twice about letting a cat do the same?
Countless free-roaming cats are poisoned or shot by people who are angry at the animals for digging in flower beds or jumping on cars. Other cats are stolen by "bunchers" who sell animals to laboratories or by dogfighters who use cats as "bait." And that's just the cats who are intentionally harmed and killed—other cats die when they are accidentally trapped in sheds or crawl spaces, when they crawl up under engine hoods to keep warm, or when they lap up spilled antifreeze. Years ago, a cat in my neighborhood was killed when a man set out a steel-jaw trap for raccoons and caught the cat "by mistake."
Everybody loved Casper—well, almost everyone. It only takes one person who doesn't like an outdoor cat for the animal's life to take a tragic turn.