An Animal-Friendly Reading List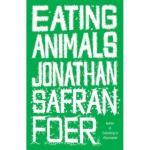 It's hard to hear about what happens on factory farms. Most people have an understandably defensive reaction to being told what they should or shouldn't eat. That's when it's time to recommend a good book. Many people will make changes to their diet after reading a thoughtful, well-researched book about the problems with eating animals.
"The PETA Prime Essential Vegetarian Reading List" suggests some excellent books about the benefits of going vegan. Here are some additional eye-opening books that can change minds or help people make the transition to more compassionate living.
Eating Animals by Jonathan Safran Foer
After writing two widely acclaimed novels, Jonathan Safran Foer spent nearly three years researching animal agriculture in order to write his latest book, Eating Animals. The writing style is accessible and often funny, but the book tackles the very serious issues inherent in factory farming. Foer is not himself a vegan (although he has said he's moving in that direction), and he does not take a strong position in defense of animal rights. For those very reasons, this is a book that will appeal to a very broad audience, including the many people who will relate to Foer's own on-again, off-again experience with becoming a vegetarian. Foer did extensive and careful research, with much of his data drawn from industry sources (the book's endnotes are fascinating). Eating Animals is a compelling read, and it's at the top of my personal list of books that I recommend to friends.
The Ethics of What We Eat: Why Our Food Choices Matter by Peter Singer and Jim Mason
Peter Singer, author of the classic Animal Liberation, worked with Jim Mason on this well-written analysis of the many ethical issues associated with our diets. The Ethics of What We Eat (buy it through Barnes & Noble at the PETA Mall and benefit PETA's programs!) does a great job covering conditions on factory farms and in the fishing industry; the tradeoffs of buying organic, locally grown, and fair-trade foods; workers' rights; and the impact of food production on the environment. For someone seeking to make more ethical choices at the grocery store or farmer's market, this book is a must-read.
When Elephants Weep by Jeffrey Moussaief Masson
When Elephants Weep makes a case for animals as emotional beings. Masson provides many examples of simple animal emotions such as joy and fear, and more complex feelings like compassion, shame, and a sense of justice. The book also makes a biological argument for the presence of animal emotion. It's hard to think of animals in the same way after reading this close examination of their capacity for emotion.
Dominion: The Power of Man, the Suffering of Animals, and the Call to Mercy by Matthew Scully
Matthew Scully is political, conservative, and a devout Christian, and he brings a unique perspective to the issue of animal exploitation. Dominion paints a detailed picture of the people and practices associated with hunting, whaling, and factory farming, and then asks the reader to consider the parallels between these different forms of animal use. Scully is not an advocate of animal rights, but he makes a compelling case against cruelty to animals on moral and religious grounds.
Why Animals Matter: The Case for Animal Protection by Erin Williams and Marge DeMello
Some people become concerned for factory-farmed animals only after first learning about other forms of animal abuse. So, it's a good idea for those of us who advocate for farmed animals to be able to speak knowledgably about other kinds of cruelty to animals as well. Why Animals Matter is a broad survey of animal exploitation in the United States. This book covers many issues, including meat, hunting, furs and skins, experimentation, pets, and animals used for entertainment in zoos, circuses, and rodeos. It's a great book for new animal advocates who want to know more about the different issues.
The Animal Activist's Handbook: Maximizing Our Positive Impact in Today's World by Matt Ball and Bruce Friedrich
The Animal Activist's Handbook is a succinct and well-thought-out summary of the most effective forms of animal advocacy and the best strategies for success. The authors draw on their many years of experience with grassroots animal activism to make a persuasive argument for how each of us can best help animals.
In addition to the above books, I wanted to mention some useful cookbooks. The transition to a vegetarian or vegan diet can be daunting for someone who has spent a lifetime cooking meals heavily based on meat, dairy products, and eggs. Vegan cookbooks can ease that transition by encouraging people to prepare vegan versions of their favorite foods.
Vegan Cupcakes Take Over the World by Isa Chandra Moskowitz and Terry Hope Romero
Moskowitz and Romero have brought their sassy New York attitude to some excellent cookbooks, such as Vegan Cookies Invade Your Cookie Jar, Vegan with a Vengeance, and Vegan Brunch. My favorite is their Vegan Cupcakes Take Over the World, which has enabled me to dazzle friends and family with kick-ass cupcakes. When vegan cupcakes taste this good, who needs nonvegan baked goods?
The Joy of Vegan Baking and The Vegan Table by Colleen Patrick-Goudreau
Patrick-Goudreau, the Martha Stewart of the vegan cooking world, has produced two cookbooks that stop all debate about whether vegan meals are just as good as omnivorous meals. The Joy of Vegan Baking updates favorite classics like cheesecake, chocolate chip cookies, and lemon bars. Nonvegans can't tell the difference. The Vegan Table provides recipes for everything from casual family dinners to special holiday feasts.
Check out the PETA Catalog for more great reads.
What are some of your favorites?