Working Animals Only Need Apply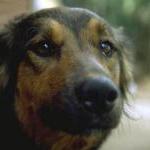 A while back, I was asked to start a program in the Palm Beach County Jail that brought together inmates with puppies who were to be raised and trained as service dogs. At the time, I thought it was a great honor, and I dove into the project with a great deal of enthusiasm and passion. It soon became apparent, however, that I was not the best person to train the inmates to train the dogs.
As a dog trainer, I only use positive reinforcement techniques. If Spot wants the treat, he has to do something that I request him to do. But the organization providing the puppies had a very different idea on how dogs should be trained. It was "old school" on this, and it wouldn't budge. So the organization ended up hiring a trainer who had no problem yanking hard on the necks of 8-week-old puppies and forcing them to bend to her will.
Have you ever wondered why service dogs are so very well behaved? It's because they are born into a culture of servitude. At 8 weeks old, they are placed with a "puppy raiser," a person who will foster the puppies and raise them until they are about 18 months old. During that time, the puppy raiser is instructed on how to train the puppies. By the time those puppies are turned back over to the organization, they are expected to have a particular set of skills on which to build. The puppies rarely had time to just be dogs. Their toys did not belong to them-rather, they belonged to the handler/trainer and were used only at certain times of the day when the puppy was to interact with a person. Food is given out in tiny increments during the day and has to be "earned."
The puppies are then turned over to the organization that kennels and trains them to perform a multitude of tasks, from opening doors to picking up items dropped on the floor. They are trained to ignore tennis balls, rabbits, other dogs … in essence, everything that stimulates dogs. On the other hand, these dogs usually get to go everywhere that their guardian goes, which is surely more stimulating than being left home while one's guardian is off at work for eight hours. So one could argue that it's a trade off.
But is the price too high? PETA's vice president of cruelty investigations, Daphna Nachminovitch, noted many concerns in an interview with the Los Angeles Times.
I also became aware of the challenges of placing dogs who "fail" in the program. I was told about a wonderful golden retriever named Murphy who had been raised to become a service dog but didn't make the cut. He was completely trained and healthy, but it seems he refused to pick up things off the floor and "hand them over" to someone in a wheelchair. Since this is a critical skill for a service dog to perform, he was dropped from the program. He was put in a kennel and all but forgotten, with little effort made to find him a suitable home. What to do with him?
Murphy had become a sort of persona (canine-a?) non grata. Since he didn't pass the test, he couldn't be placed with a disabled person. He was already neutered (thankfully!), so he couldn't be used in the program's breeding effort to make more puppies. Murphy languished in that cage for two years before I heard about his case. Since I was working as an animal-assisted therapist at a drug rehab facility at the time, he was given to me to incorporate into my work. Surely he could cheer patients in need of a little animal therapy. I mean, how hard is that?
Turns out it was a little too hard for Murphy. He was terribly depressed. He moped around like Eeyore on Winnie the Pooh. I took him to a vet-he was fine. I hired a dog psychic-he was depressed (gee, thanks). And I finally figured out that his spirit was broken. He had never been allowed to be a dog, so he wasn't really sure how to act. It took more than a year of full-time, day in and day out happy talk, cheerful chatter, dancing, and singing (not well, but loud, very loud)-and even a few hours of doing the Irish Jig before he would even wag his tail. He's a member of my family now and acts like a dog most of the time, but he's still very subdued. People think he's a lot older than he is. I tell them he has an old soul, and maybe that's true. But I think it has more to do with how he was raised.
And so I have to wonder, are we doing the right thing by forcing these dogs into service? Is a life of servitude a good life for a dog? I'm not sure. I am not talking about dogs who can pick up on epilepsy or heart problems or serve as emotional support animals. Many of those dogs tend to be companion animals who have demonstrated an ability to do something extraordinary. Many of the hearing-aide dogs are shelter rescues, so the programs don't contribute to the companion animal overpopulation crisis. My concern is for the dogs you see in the store with the vest that says "working animal-do not pet." If you look into the eyes of those dogs, you don't see joy there but resignation. I know I will get responses telling me what great services these dogs perform, guiding eyes for the blind, hearing ears for the deaf, hands for those who can't use their own. I get that, I do. I know that they are out there in the world doing wonderful things. I just think that maybe we should stop for just a minute and think about what the dogs get out of it.
Maybe there's a better way. What do you think?