Retirement, Indian Style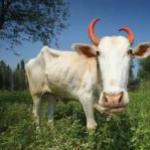 Life is hard for animals working in India. In Maharashtra (a state in western India, Asia's largest producer of sugar), bullocks—and sometimes ponies—are forced to carry extremely heavy loads of cane from the fields to the mills, trudging up to 20 miles a day in the extreme heat, along rutted dirt roads, and often with the whole family on top of the cane, all without relief. As a result, they suffer debilitating injuries, like yoke gall, bone fractures, dislocated joints, depression (no kidding), and internal bleeding. By the time they hit their PRIME years—18 or so, most are in deep trouble. Bullocks, for example, can live to be 25 or more, but most bullock cart owners in India are too poor to spend even the smallest amount of money on veterinary bills and certainly can't afford to feed animals whose working days are behind them. That's when they sell these worn-out souls for slaughter. Until now, that is. Now Animal Rahat is providing a retirement plan for a few of these noble, deserving animals. A lucky few.
Rahat (which means "relief") is a group that was founded in 2003 by PETA President Ingrid E. Newkirk, working closely with PETA India, and funded by the generous donations of a small handful PETA members in the U.S. and worldwide who also keep in touch with each other as well as receive updates on how their donations are helping animals in India through our Rahat cause on Facebook. Green pastures await tired, old, and ill animals who can no longer carry their loads. Free from nose-rings or harnesses, allowed to chew the sugar cane and grass, plenty of time to hang out with friends, with needed veterinary care—all provided by Rahat for retired animals. Villagers didn't believe it at first, but the word is spreading, and ever so slowly, trends are changing. More animals will now be retired instead of being sent to the slaughterhouse.
Retired bullocks and horses find friendship and peace. Housha and Phulya spent their working years yoked together, pulling overwhelming loads day in and day out. Now they stand free, shoulder-to-shoulder as they wish—soul mates enjoying the good life. Even after recuperating at the retirement home, some animals still shudder and kick when they see their old masters, so painful are the memories of their working years. But many farmers love their animals and are delighted to see them healthy, happy, and enjoying a peaceful life. Santosh Masal, for example, was a true friend of Shilya, a bullock. Indeed, some farmers grow so attached to their animals that they can't bear to leave them in the old-folks facility—they want the animals with them, next to the hut where they were raised. For them, Animal Rahat provides a stipend for food and care at home, without work—about $43 per month—and monitors them to make sure all is well with their retirement.
Rahat also advocates for better working conditions for the animals, for modern medical intervention instead of traditional (and painful) "remedies," like throwing hot spices or broken glass into infected eyes or using hot-iron branding to mask the pain of joint swelling or digestive problems. Competitive bullock racing still occurs, where pins are jammed into vertebrae for the sake of a few moments of speed. But awareness of animal suffering is growing, thanks to the efforts of Rahat's veterinary crew, and every day brings a bit more sunshine into the lives of animals working in India.
So please consider helping with this wonderful retirement plan. Your donation to Animal Rahat can go a long way toward making the golden years pleasant for these hardworking souls.