Prime Inspirations: Triathlon for Animals, Part 2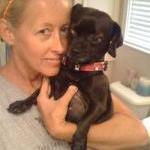 Mia Bissette is an inspiration and a personal hero of ours. By using an online personal fundraising page on Firstgiving and participating in a triathlon, she raised more than $4,000 for animals. We asked Mia to share her story with you. Here is part two of her story. Part one can be found here.
Texas weather was extremely hot this summer, but I loved being outdoors for my triathlon training. Although things did get tough once in a while, it helped to think of my animal friends during my training. I'd think of my most recent rescue, a mama pit bull mix who was found with her seven 5-week-old puppies at an abandoned motel. This poor girl—suffering from heartworm disease, malnutrition, and severe dehydration—was on death's door. Surprisingly, her puppies were quite healthy. She had made sure of it despite her condition, and so how could I not put 110 percent into my own efforts? This mama pit bull was—and continues to be—a hero and an inspiration to me. When my energy waned during training, all that it would take for me to rebound and refocus was to take a minute to think of her, knowing that there are millions more animals just like her around the world who need help.
Before I knew it, race day was finally here! A good night's sleep made it easy to rise early (4:30 a.m.). The first event of the triathlon—a swim in the ocean—proved to be a great challenge. As we entered the water, every competitor was taken by surprise as we were faced with overcoming 6- to 8-foot waves—and a serious battering—just to get to the starting line. After taking a big beating from the waves and giving it my all, I was forced to make the difficult decision to exit the water or else risk having to be rescued by lifeguards (as 6 people were) or worse. After a bit of disappointment, I moved on, and the day just got better and better.
The next event was biking! It was a beautiful—albeit windy—day for a bike ride from Venice Beach to downtown Los Angeles. I finished the ride and transitioned into my running shoes. The running event used to be my least favorite part of a race, but having the ground under my feet this time was the best feeling ever—and the race organizers kept the challenges coming.
Throughout the race, I received quite a few cheers and words of encouragement as people commented on my "Vegan Athlete" outfit (bike shorts and a top). That felt really nice. As I had the finish line in sight, I really felt a great sense of accomplishment and was so excited that the moment that I had been waiting for had finally arrived. I pulled my PETA banner out of my shorts and held it high and proud as I crossed the finish line! Several people gave me a thumbs-up and cheered for PETA as I made my way through the crowd to receive my little medal. (Yes, we all received a finisher's medal!)
I plan to continue on this journey of raising money to help animals by doing triathlons, and I'm hoping that my team will grow in the future. The cool thing is that as a result of my being in this race, I have already found a few people who are interested in getting on board! What a gift it has been to see this challenge through—even the difficult ocean part is somehow a fond memory.
As for the mama pit bull (I knew you would want to know), the story had a happy ending. After finding good homes for all her puppies, I ended up keeping this girl. Her name is Shawnee, and she is the best training buddy I've ever had. She loves to run with me, and I feel like the luckiest person to have her in my life. She is a constant reminder to me of why I do what I do for animals.
I would like to encourage anyone out there to help your fellow beings in any way that you can. And please trust me when I say that no positive action is too small. One meat-free day a week is a great way to begin saving animals' lives! Volunteering at an animal shelter or rescue facility will blow your mind. If you've thought about it, just go ahead and do it. Get active for animals!
And set your goals high because you'll most likely accomplish way more than you thought possible. I remember that as I was creating my fundraising page, I needed to put in a "goal" amount. I thought that I could maybe raise $1,500—a big maybe! But before I could even blink, I had typed in $3,000 and hit "Complete." When it was all said and done, I managed to raise nearly $4,000 for PETA! You can do anything you set your mind to.
If you would like to learn more about how you can use Firstgiving to fundraise for animals, please e-mail Michelle Cehn ([email protected]) or call her at 510-763-7382, extension 27.